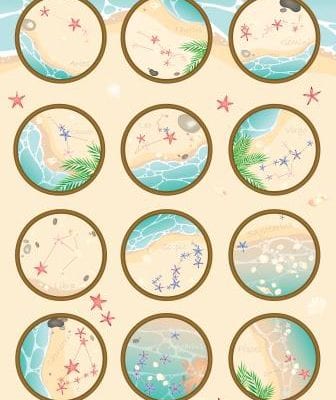 Are you going on holiday? Have you ever wondered if the star signs that you and your significant other were born under, will influence the type of holiday you go on? Do your different star signs, make you excellent travel partners, or do your Star Signs mean you have different ideas about what makes the ideal getaway?
Read on for travelling with the different Star Signs:
Aries
Aries are high energy, and this doesn't change when they go on holiday. They will expect you to be fighting fit and raring to go… Arians are healthy by nature, and will not see a holiday as a reason to ditch their attitudes. so, think hiking, cycling, swimming etc, rather than lying on the beach eating ice-cream! They don't like to have their style cramped when on holida. If you are happy to go along for the ride an Aries vacation can be very exciting indeed.
Taurus
The Taurus star sign make good travellers, but they are equally happy with a staycation. Budget airlines and accommodation are not going to cut it. They like to holiday in style. They are not going to want to know about luggage limitations. Extra bags for the way home should also be a consideration – as they do love to shop! Taurus are generous with their companions – so join in and 'shop until you drop'.
Gemini
Geminis are the exact opposite of Taurus in that they want to travel light and quick. When packing your cases, think about what you can handle, as Gemini are unlikely to help you with your bags. Or be prepared to hear a lot of 'I said you didn't need that'…Geminis will entertain you all holiday long, flitting from one place to another and from subject to subject. But be warned, risk their wrath if you show boredom or tiredness.
Cancer
Short breaks with the Cancer star sign are the way to go, as sooner rather than later they become home-sick. They are homebodies and love the security that their home nest provides. When they go away, a home away from the home environment will be best. This zodiac sign is great in a crisis. They will take journey delays and complications in their stride when others are stressed out. But travelling and day trips are best broken up allowing Cancer time to recuperate in between.
Leo
Travelling with a Leo must not be done on the cheap, camping is not going to please them! They want to look the part and expect you to do the same, wardrobe choices are important. This is not a time to slop around in denim cut-offs! Captain Table dinners on a cruise liner, with plenty of opportunities to preen and be seen, would be more the order of the day.
Virgo
Virgos are the ultimate organiser, so weeks in advance every detail of the travel arrangements, the trip itinerary and documentation will have been taken care of. The dreaming of the trip, the planning and looking forward to the holiday are all part of the excitement for a Virgo. But when it comes to the actual travelling, they can be a bit grumpy and anxious. Soothe the way with interesting conversation, puzzles and games.
Libra
If your idea of heaven is boarding a plane, train, boat and then nodding off until someone advises you are nearing your destination, then Libra is not the right travel companion for you. They like to stay alert throughout the whole journey! Libras social butterfly personality is never more evident than when they are on holiday. So, expect to have people regularly joining you for drinks, for dinner and excursions. They like to show interest in others, and a holiday is a perfect time for that – so romantic alone times may be few and far between!
Scorpio
Scorpios can have a laissez-faire attitude towards planning a holiday, they are perfectly capable of planning and organising, just sometimes they chose not to. If you want your opinions taken into account, you should get in the game early – and make your choices known. The best holidays with a Scorpio are where all of the discussions have taken place before you leave the ground, let them get their sarcasm over your choices out of their system!
Sagittarius
The Sagittarius sign can be a bit lazy about holidays, and then suddenly want to go somewhere and book something last minute. If you are happy to just go with it and see the type of holiday and destination as an adventure – then you will likely have a fantastic time. Sagittarius most often want to holiday with those they are closest to. They will not want to have to socialise/dine with those they don't know. They have a great sense of adventure and fun, and so will want to try some new experiences.
Capricorn
Capricorns really have to be pushed to travel, they would prefer to stay home unless there is a real reason such as a business that necessitates them going away. Exceptional landmarks, natural wonders etc are probably the exception to the rule. So, choose a destination with significance. They can often also be seduced by the romantic notion of a holiday just for the two of you, where they get your undivided attention!
Aquarius
The Aquarius personality is ever-changing, so a holiday with a fixed itinerary would be a nightmare for them. Going to a destination that offers many activities, without a schedule is perfect, so plans can be changed on a whim. Aquarians like to surprise, so just because they have liked certain activities in the past doesn't mean they will want to do them again. They quite likely will want to try new things and have a different adventure.
Pisces
Pisces are really fun to go on holiday with, they are happy with long and short trips, as long as a change of scenery is involved. Pisceans can make any tent/boat/hotel room, their home away from home. The Pisces star sign love holidays that give them access to new places they haven't visited before. They do bore easily, so the same holiday year in year out will not do. Pisces will be especially delighted if a romantic twist is involved.
Posted: 22/08/2019