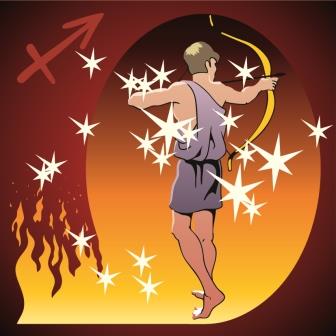 Sagittarius Star Sign Introduction
Do you have a birthday between November 22nd and December 21st? If so, you are born under the star sign Sagittarius. You will know this star sign as 'The Archer', depicted with a bow and arrow. Read on to find out more about this prominent zodiac sign.
Basic Facts
Element: Fire
Ruling Planet: Jupiter
Symbol: The Archer
Crystals: Topaz and Lapis Lazuli
Colours: Blue, White and Purple
Plant/Flower: Fig, Hyssop and Oak
Keywords
Optimistic, impatient, honest, critical, inspirational, indulgent, adventuress, restless, spontaneous, tactless.
History & Mythology
Many interpretations conclude that the mythology of the Sagittarius Star Sign relates to the story of Chiron the Centaur.
As the legend goes, Chiron was accidentally shot with a poison arrow by Hercules. It is thought that Chiron changed himself into a horse to escape his jealous wife Rhea. Chiron was renowned for his gentleness and kindness. So, in recognition of this, Jupiter placed him in the sky as the constellation Sagittarius.
Ancient drawings and images of Sagittarius have been found dating back to the Assyrians and Babylonians.
Personality Traits
Sagittarius traits are: enthusiastic, independent and outspoken. In fact, Sagittarians are said to be the most fun-loving people in the zodiac. They rarely tell lies and are open with their feelings and opinions. This sometimes makes them undiplomatic. The Sagittarian is the traveller of the zodiac. Their energy draws them to explore and search for new places and experiences.
Sagittarius Strengths
A great sense of adventure and a well-developed imagination make Sagittarius enthusiastic and creative. They like to both seize opportunities as well as initiate projects. They seem to have a sixth sense for people in trouble. Sag will always fight to help those they see as the 'underdog'.
Sagittarius Weaknesses
Sagittarius is a fire sign; their quick temper often gets them into trouble and they can speak without thinking. Because of their need for travel and adventure they can often get bored or restless. This is especially true when they are surrounded by people or situation's they have no interest in. This can make them come across as emotionally detached or unaware of others feelings.
Sagittarius at Work
Sagittarians have keen, inquisitive minds. They are fast learners and profound thinkers and often work well with others. This star sign can be counted on in the workplace because of their excellent intuition. Sag can tell straight away if an idea is a good one or not.
This is a versatile sign, and is quite capable of doing many things at once. In fact they will relish the opportunity to do many tasks, to stem off boredom. They like a challenge, and dull routine jobs will tire them.
The Sagittarius sign is good at the big picture. It is helpful to have someone on the team that can look to the small details. Sag are very good at sales and promoting. They have good empathy and so can work well within a team. As long as others can overlook their tendency to be blunt, they don't mean any harm by it. They are just very straightforward and think others are the same.
Sagittarius and Love
Love is all about the adventure and love moves fast for the Sagittarius sign. If you can throw in something exotic like love in a foreign land, then you will really have captivated them.
This sign is happy by nature, but even more so when they feel loved. For a relationship to work it is essential that they are compatible on an intellectual basis. Their partner needs to be generous of spirit and good humour is a must.
It can be hard to tie a Sagittarius sign down. This sign always want to feel that they are 'free to move'. They need honesty, security, amusement and inventiveness to consider a long-term relationship.
The thing most likely to make Sagittarius move on is jealousy from their partner. If they do not feel fully trusted, cracks will begin quickly. Sagittarius have the ability to be with only one person. If they think about cheating it is likely that the relationship is being taken for granted. This may happen if Sag feel no excitement and things are just too routine.
Sagittarius and Family
As children Sagittarius signs never sit still, they are the child constantly asking enquiring questions. They are enthusiastic, happy and a little mischievous. They will be honest and own up to wrongs if pushed. Children of the Sagittarius sign benefit from being given room to express themselves. This zodiac sign likes education as long as an element of self-expression is permitted. They can develop a sense of responsibility early on, when trusted with tasks, pets or people.
As parents, Sagittarians believe that education comes from all sources: school, museum visits, nature and travel. They will actively encourage pushing Sagittarius outside of their comfort boundaries. Exploration is the name of the game! They are not great at laying down a routine, and so discipline can be a bit haphazard.
Sagittarius and Friends
Due to their positive and encouraging nature, Sagittarians make great friends. They will do anything to make those around them feel happy. Their kindness is selfless and they treat people how they would expect to be treated. Sag are easy-going, with a good sense of humour. This star sign makes friends with people from all walks of life.
Famous Sagittarians
Sagittarians are born entertainers with no shortage of ideas. Therefore it is no surprise that many stars are born under the star sign.
Research has shown that Sagittarians are more likely to reach success at a young age. Demonstrated by celebrity child stars Britney Spears, Christina Aguilera and Miley Cyrus. Their ambition and drive make them a recipe for success in the cutthroat world of showbiz.
Other Sagittarian success stories include Walt Disney, Steven Spielberg and Brad Pitt.
Discover More
The date of your birth has long held significance for your future life. With many astrologists using this information to see how the stars and planets will influence us throughout our lives.
If you are born under the Sagittarius Star sign, you may want to find out more. Why not contact one of our Psychic Readers today?
Don't forget to check back monthly to read your FREE Sagittarius Horoscope.
You can also find out about the different Star Signs that are compatible with Sagittarius.
Posted: 22/02/2019
Related Category: Astrology