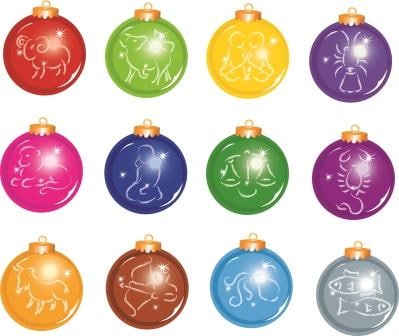 We are exploring a Zodiac Christmas. When it comes to family gatherings and events in the calendar like Christmas, how do the different star signs approach things?
Zodiac Christmas – Aries through to Virgo
Aries are actually quite traditional, they enjoy spending time with extended family. They like all of the pomp and ceremony that goes into an event like Christmas. Aries are just like big kids, so Christmas is a delightful time for them, especially when spent in the presence of young ones. Aries like to contribute, so whether you need them to bring a board game, a bottle of wine or dessert – just let them know! This star sign is generous, they will likely spend money on Christmas. Then worry about the bills at a later date.
Taureans are not great at asking for help, they can go into full-blown 'control freak' mode around things like Christmas. Believing that they need to do all of the cooking, arranging, shopping, decorating etc themselves. The problem is after doing all of the work, they are exhausted, don't enjoy the main event very much and can feel resentful after. So, knowing this – family should try to plan ahead and set tasks for everyone, to share any responsibilities. Taurus may still show some 'perfectionist' tendencies and try to take over tasks – but don't let them!
Geminis love a good party, in fact, a celebration of any kind. However, things will be much less stressful if they are an invitee, not a host. They can be a tad unreliable and don't do well with the finer details needed to pull off even a small gathering. However, what they lack in planning skills, they will more than makeup for in their ability to keep a group entertained. They are high-energy, have great verbal skills and will happily regale any guests with funny stories. To ensure a non-dull event, invite a Gemini!
The Cancer star sign has a serious approach to life, even when it comes to relaxing in front of family. They won't find it easy to 'let down their hair'. They are, however, more likely to let their children run with the festive spirit. If they are not the hosts, then Cancer can certainly help who is. They will be delighted to get involved, whether it is cooking, decorating or more. Knowing a party has gone off well, will ensure that Cancer has a good time, even if it is a little bit difficult to see it. Just don't expect them to turn up in a reindeer adorned jumper!
You can expect a Leo to make a grand entrance, even if it is a small family event! They are not enthralled by tradition and doing the same things year-in, year-out. They will on occasion help out with the planning of a gathering. But, be warned they tend to be all-in and will want to take over all arrangements to make it 'spectacular'. If Leo is wavering on whether to attend, making it a 'secret' or 'surprise' party in their honour will quickly change their mind! Once in attendance, they will throw themselves into games and activities and they especially will love the 'present' part!
For Virgo, planning is a dull word. They are far more likely to throw an impromptu get-together. This sign finds joy in being impulsive. Having said that they do still like to incorporate rituals and traditions especially around Christmas. Virgos love nothing more than catching up with a long-lost cousin or uncle rarely seen. Despite not liking to plan, they are very good at logistics. Put them in charge of who should sit by who, who likes what to eat etc. Once, at the event, they will do better one-on-one with guests, rather than holding court over a group.
Zodiac Christmas – Libra through to Pisces
Libra loves a gathering, they often prefer to go out and mingle, as opposed to attending at-home events. They love nothing more than an excuse to get dressed up all fancy. Libra love to catch up, so meeting with people that live far afield will put this star sign in their element. They will happily – eat, drink and be merry, play games, mingle and generally revel in any spirited conversations. As Librans age, they get better at being the host, in their younger years, they are probably better as guests!
Scorpios will be enthusiastic about family gatherings, as long as it only happens 2-3 times per year. Work and other commitments will be prioritised otherwise. They like being part of a group and will work hard to make any event they are part of success. Money will be spent easily on food, décor and gifts – they are generous in this area. So, don't put them in charge if you are budget conscious and don't want the best of everything! Socialising with Scorpios doesn't come easily, so don't be surprised if they take themselves off for a quiet moment here and there.
Sagittarians will happily host the main event a couple of times per year, and because it's not a regular thing, they will go 'all out. Meeting more regularly than this can often lead to old grudges rising and being aired. If alcohol is involved, it's possible that the Sagittarius signs among the guests will get more raucous as time goes on. So be prepared for loud and spirited talking, much laughter and the odd bit of crockery getting broken!
Capricorns would never be described as 'party animals', but the odd invite might make them cast off their normal personality, and reveal a more extroverted side! Although they might have fun, it could be a while before they want to do it again…Caps will work hard behind the scenes to make an event happen, and secretly they enjoy any praise bestowed on them. As Capricorns get older, they are more likely to askew party invites, in favour of quiet time spent with more immediate family.
Aquarians act as a calming influence at many gatherings, particularly those of extended family. But, in general, Aquarius star signs don't like to feel obligated, by having to attend certain events. This is especially true if the gathering is likely to be a carbon copy of what happened last year and the year before. They are free spirits and want to do what they want to do. However, a true party, they will be much more up for, where they can literally dance the night away. They are good sports though, and will likely help you to clear up (even if it is the next day)!
The Pisces star sign is sentimental and nostalgic, so gatherings of people with a shared history give them plenty of scope for reminiscing. You can fully expect them to be sat in a corner at some point, pulling out photo albums! Pisces like to be involved in any party planning, you are much more likely to get a yes to them attending that way, especially if it is only really a once-a-year event. If they feel comfortable in the company, you may well see a more extroverted Pisces, one prepared to let go and really live it up – for one night only!
Zodiac Christmas Horoscopes
Don't forget that you can find out what your horoscopes have in store for you in December 2020 and beyond. Visit our dedicated page on a monthly basis.
Posted: 16/12/2020