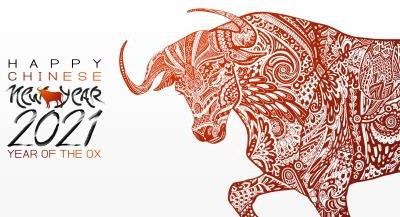 The Year of the Ox (Metal) commences on 12th February 2021 until 30th January 2022. Other Year of the Ox years are as follows: 1961, 1973, 1985, 1997, 2009, 2021, 2033. The Ox is in the second position in the Chinese Zodiac.
Elements and the Year of the Ox
You can depend on the Ox; they are stoic in nature, sure of themselves and opinionated! They are reliable and work hard – they will give everything their best. They are practical and trustworthy.
Metal – 1961 & 2021
These Oxen will not have financial worries, but they will face many obstacles in their early lives. Friends and family don't always provide the comfort and support needed. But by retirement, they will be settled and prosperous.
The Metal Ox is fantastic in a crisis – someone to be relied upon. They can be a bit critical, especially of others whom they deem to have got themselves into a mess!
Their strong opinions can make them hard to take at times; they will argue their point and not back down. But not everyone is going to want to see things from their perspective…
Water – 1973 & 2033
These Water Oxen will find respect in life, and their early years will be easy and comfortable. They go on to find loving families of their own, although they are most successful when they marry later in life.
You don't want to let a Water Oxen down, you will feel their disappointment in you acutely, and you can expect a grudge to be held! They are organised people, although they prefer to work within their own systems, rather than one of another's making.
As characters, they are motivated, quick-thinking, family-orientated and loving.
Wood – 1925 & 1985
Childhood may not be an easy experience, especially in school activities. But later on, they realise they are multi-talented and figure out how to put their skills to good use. Things are smooth sailing from then.
The Wood Oxen has a lot of determination; they survive changes, adapting as needed. Their sheer grit will get them thorough adverse situations. In their career and at home, they are likely to be 'working on something', projects see them through – they need that beginning, middle and end to feel satisfied.
Getting their own way is important, almost essential in some circumstances, and as such, they will devise plans to ensure things go their way.
Fire – 1937 & 1997
Fire Oxen are very lucky, as they are unlikely to have financial concerns during their lives. They prove to be outgoing, social and friendly characters.
Hard-working is the way you would describe a Fire Oxen. They know what they want and go after it. They are energetic, albeit impatient at times. But always having a goal in mind keeps them on the right path. If they feel others are blocking their success, they are not always quiet about the perceived interruption.
You would describe a Fire Oxen as affectionate and demonstrative; they are also very social creatures. However, they chose their friends and partners with great care.
Earth – 1949 & 2009
Detailed orientated Earth Oxen find they like and make good leaders, often resulting in career success and wealth. However, hanging on to money proves a tricky prospect, but eventually, they get things right and can enjoy the later years.
Earth Oxen are not always as grounded as you might imagine, their personal lives, in particular, can be a bit all over the place. Largely due to naivety, that means they can be all too trusting and taken advantage of. That said, their life experiences allow them to show great empathy to others, and they will keep many confidences.
You would say that Earth Oxen are perfectionists at heart, but they do approach things with practical reasoning and logic; they are also thoroughly responsible.
The Year of the Ox – Love Compatibility
Now, that you know more about the Oxen, you might be wondering what Chinese Zodiac signs are a good or bad match in terms of love and relationships.
Best Matches
One of the best love matches is the Ox and Rat, they just fit together – they are very complementary to each other in every way. They have a very cooperative relationship, and enter into a union on an equal footing, sharing responsibilities – but with both doing what they are good at.
A Snake/Ox match also works well, these signs have a lot of romantic sparks – they find each other very attractive. Longevity comes from the fact they also have similar belief systems. They have a desire to explore life together, and shared interests make them grow closer as time goes on.
Lastly a pairing of the Ox and Rooster can work well. Although they have differences, they find common ground especially through hobbies. They get along well, and will often be friends first, with relationships deepening over time. If and when they hit troubled waters, they will pull together and work through things, making lasting unions much more likely.
Difficult Matches
Tiger, Dragon, Horse and Sheep will all prove problematic matches with the Ox. These signs each have very different approaches to life than the Ox. A fundamental difference in beliefs and long-term goals, makes for a disharmonious relationship with lots of petty arguments on a day-to-day basis, as each sign tries to make the other understand their position.
Tigers are too manipulative for Ox; they aren't prepared to bend to Tigers wishes.
The Dragon wants to lead, but so does the Ox. Two leaders and no followers, does not make a match made in heaven!
Horses inability to communicate, turns off a relationship with an Ox before it has begun.
A Sheep/Ox match, means quick-tempers and often inconsideration in the relationship – leaving both partners unhappy and dissatisfied.
Posted: 12/02/2021
Related Category: Astrology