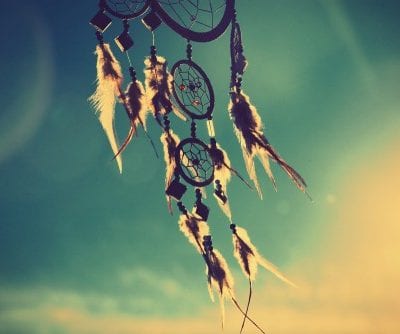 Dreaming is something that we cannot control. While we're asleep most of us have between 3-6 dreams, lasting 5-20 minutes. Even though we sometimes do not remember what we have been dreaming about (95% of the time we forget our dream after we wake up) our minds are still active throughout the night. For the dreams that you do remember, wouldn't it be nice to understand and know what your dream actually meant? Over the up and coming months, Psychic Light is going to be looking into some of the most common dreams and helping you to understand what they mean.
What is dreaming?
When we fall asleep, we experience five phases throughout our unconscious state…
Stage 1: 4-5% of total sleep occurs in stage one. This stage occurs when our mind is relaxed, and we go into a light sleep where little activity happens.
Stage 2: 45-55% of total sleep occurs in stage two. This occurs when our eye movement completely stops and our brain waves fluctuate from rapid waves to slow waves.
Stage 3: 4-6% of total sleep occurs in stage three. This occurs when your brain waves become extremely slow, combined with smaller and faster waves.
Stage 4: 12-15% of total sleep occurs in stage four. This is when there is no eye movement and no muscle activity, which in turn leads to deep sleep. If you do wake up, then you will feel disorientated and shaken.
Stage 5: 20-25% of total sleep occurs in stage five. Everything becomes irregular during this stage, your eyes are rapidly moving, your breathing levels become faster, your blood pressure and heart rate increase and your muscles simply feel paralyzed.
Why do we dream?
Everybody experiences dreams that play with their emotions. Nobody knows for sure why we dream; however, Sigmund Freud stated that 'dreams are a window into our subconscious.' Freud believed dreams had meanings behind them, and each dream reveals people's motivations, thoughts and desires.
How dream interpretation works
Throughout the year, we will be using psychoanalysis to explore what each dream means. By understanding the unconscious mind, we are able to explain why you are having certain or repetitive dreams. The dreams which we will be uncovering are dreams which most people will be able to relate to. Below are the topics that we will be covering over the coming months:
Keep a close eye on our blog each month to see if you can relate to the dreams we are covering. Having knowledge about dreams will help you understand your unconscious mind, and you can even pass on your newfound knowledge to your friends and family.
If you are curious about a certain dream you are having and want to know how this dream will affect your future, just give us a call today.
About Psychic Lights
Our psychic readers are very open, friendly and insightful people. Pick up the phone and call one today if you need answers to life's questions. Alternatively, we also offer readings via or emails. With the insights you have gained you can make the best decisions for you moving forward.
Posted: 14/07/2020