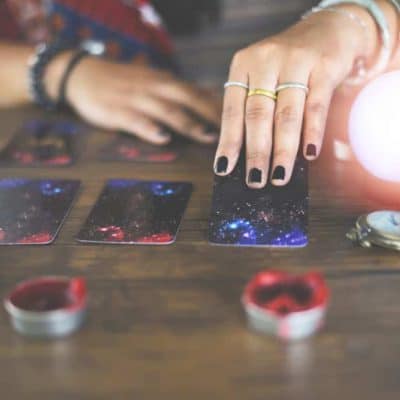 This article was written by Sarah, PIN: 9888
First, when you decide to get a psychic reading, it can sometimes feel like you are bombarded with so many different options and choices that it's easy to lose focus on what you are trying to achieve. You probably have many questions that you need answers to when it comes down to it. Although there are many different ways, psychics can look into these situations for you. You will probably find that certain methods work better for specific subjects or even that you prefer some techniques and tools used over others.
Find your 'happy' place
Finding your own 'happy and comfortable' place when getting a reading is essential, so don't be afraid to try a bit of everything until you find what works best for you. The easiest way to start deciding what kind of reading you need is to look at the reader profiles online. This way, you can see what tools and techniques each reader uses (and we are all very different)! Sometimes you might feel a connection straight away to a specific person or psychic reading type.
Gifts & Tools
Psychics use many tools and techniques to give their readings, ranging from traditional Tarot cards and Runes to Angel and Oracle cards, Crystals, Astrology and Luna cycles, Spirit Guides and even pure Psychic Intuition. These techniques work exceptionally well in answering any questions you may have, and there is no right or wrong tool to use! However, remember that the psychic themselves is the predominant 'tool' in this process, so choosing someone you have faith in and connect with is extremely important no matter what method they decide to use.
Tarot
I prefer to work with traditional Tarot cards for most of my readings. Having used this tool for most of my life, I find I work naturally with the cards, and they aid me in gaining an instant connection between my caller, Spirit and the natural world around us. I like to chat with my callers about their situation and feel their flow of energies as we move through the reading, making it a very informal, calm and natural process.
Tarot Spreads
When using the cards, there are many different spreads that a reader can use to gain insight into the question and answer. Often the client relies on their reader to use the method that will work best for them and the given situation.
A typical spread is the Traditional Celtic Cross method, which delves deep into the question, the questioner and their situation, past, present and future. This spread also details areas of the questioner's life, such as their relationships with others around them and their hidden hopes, fears and desires relating to the question. This spread is fantastic for in-depth answers and clarity, although it can sometimes be time-consuming given how much detail it provides!
Another popular method of reading the cards is to use a variety of three-card spreads. This type of spread is excellent for more basic questions and general readings of a client before expanding and looking further at specifics. The most common three-card spread looks at the querent's past, present and future regarding the question asked. Other variations on this method include looking into the mind of the querent, physical body and spirit connections or considering the querents current relationship status, the status of their partner and the relationship as a whole going forward. There are also specific spreads for different turning points of the year's wheel, such as Samhain (Halloween) or Mabon (Autumn Equinox).
Crystals
Using crystals during readings can be highly beneficial to both the querent and the psychic when connecting to both the spirit world and each other, especially when providing readings over the phone. Suppose a client has a crystal that they relate to or resonates with their current situation; in that case, it's a great idea to let your psychic know to use this to further connect and identify with the reading.
During my readings, I like to talk to clients about any crystals that may aid their situation. I may also suggest any crystals that may be of use to them in the future, such as using a Tigers Eye crystal if they are going through bullying in the workplace or Rose Quartz for relationship issues.
I believe crystals can heal, enhance, and further connect with the Spirit world. Every crystal has its own unique 'heart' and energy for the client and the psychic to work with, so callers should never be afraid to ask questions and discuss this further during their readings. Sometimes psychics solely rely upon crystals for their readings, as they are that powerful!
Zodiac and Luna Energy
Working with the Zodiac and Luna energies (wheel of the year) can significantly affect readings. Each individual has their zodiac sign, for example, Aries, Taurus etc., but each month the moon travels through these signs giving extra power to certain aspects of life. An excellent example of this is when the moon is in Virgo; it's a great time for health and healing or for working with cleansing. On the other hand, Libra is
ideal for relationship work and love. As a psychic, I like to use these natural Luna cycles to better enhance and give depth to my readings, as the natural cycles of nature affect us all daily.
The Perfect Reading
Along with these main points, each psychic will have tools and guides to support you in finding the perfect reading. Working with Runes, Spirit Guides and Spirit Animals can also aid readings, and when you add all of this together, the possibilities are endless depending on what you are seeking to find.
Although it can seem a bit much at first, don't let the vast scope of possibilities daunt you. Your psychic will tune into your energies and find the best possible reading for you and your question.
Remember, it's all about self-discovery. Feel free to ask for any details and advice throughout your reading; we always love to support others to find insight and take their spiritual journeys to the next level.
Good luck whenever you decide to get your next reading! Best wishes, Sarah.
Further Readings

Should I believe what a psychic says?
Can psychics really predict the future?
What do psychics see when doing a reading?
A day in the life of a psychic reader
How to choose a psychic reader
How to prepare for a psychic reading
Posted: 23/05/2022
Related Category: Psychic Readings