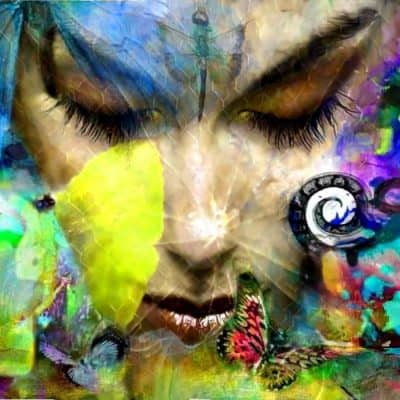 A psychic reader is someone who uses their extrasensory perception (ESP) to obtain information about people or events. Psychic readers can use their abilities to provide guidance and advice to clients, often on matters that the client may be struggling with. Today, Adele is walking us through what a typical day in her life as a psychic reader is like
This article was written by Adele – PIN: 3622
Starting the day
A typical day begins for Adele when she wakes up, usually an hour or two before starting work online. When awake, she starts the day by checking her energy, ensuring that everything's fine and her energy is clear. Before the first calls come in, she does her morning prayers. She meditates – breathing and bathing in positivity, focusing on the physical, doing a quick grounding exercise and a chakra visualisation. Then Adele always connects to her intuition in her studio in her garden. She listens to the birds and enjoys the morning sun with a cup of herbal tea before taking the first calls of the day. Adele plays some relaxing music, burns sage and lights a candle to say a morning calling. Once those calls start coming in, she ensures her tools are ready; crystals, Tarot cards, I Ching, Pendulum, coloured pens and pencils – all of the tools that assist her to read, scry, and interpret what she sees. Adele explains that the beautiful thing about this is that it's energetic, so she doesn't always need to touch the person she's reading for; she quickly senses and reads the energy that radiates from others and senses the incoming energy from the universe in reaction/response.
A reading
During the reading, Adele slows down and stills her mind. She is making the conditions perfect for her intuition to speak to the client. When relaxed into the moment, Adele senses and feels the client's energy pulse and receives a lot of information. Then she listens to what the person's body and mind are trying to tell her at that given moment and also receives messages, signs, images and visions from her spirit guide, the client's guides and angels to see what's happening in their sphere. She may feel sudden waves of emotion, and energy temperatures, associated with the present.
Adele's abilities
Adele feels very grateful for her psychic abilities, and no two days are ever the same in her line of work. Adele has innate intuition, experience, understanding and insight into the healing arts and sacred craft and has studied to a high degree to offer better support for her clients when they need guidance.
A psychic's work to Adele is not a science; it is an 'art' – and a result may happen in an hour, a day, a year or a decade. Whether working with a client face to face or over the telephone, she is here to listen, understand, guide, intuit, and ultimately assist her clients to see more deeply and with greater clarity so they can focus on the best way forward for them.
Much of what she sees in the Akashic records is 'written' fated or destined – but much is about choice and free will – and alternative parallel journeys and outcomes, where one significant choice made will see the client change things in their life journey so to speak. Part of what Adele does is to ensure that the client makes an informed choice – recognising what the outcomes of each decision are likely to be.
The messages or vital pieces of information that Adele receives about something or someone may not always be great, but she will always do her best to convey it most kindly and lovingly as possible. Adele's duty as a psychic reader is to share the information that she gets. Sometimes, what may seem nonsensical to her may give another person the perfect validation they are looking for and need.
Over the years, Adele has developed a relationship with every one of her clients. Her connection with her clients has become much more like a soul friendship.
Winding down
As the day winds down, Adele stops and follows the ordinary rhythm of any working person's rise and set. After work, she undergoes a clearing process to disconnect, tuning into her energy again, making sure she is energetically disconnected from her client's energy and sends back what's not hers. But just because her readings are complete for the day, it doesn't mean she is still not picking up on things; she has just learnt ways to close when her working day is over.
Adele has a full life, and her life has many different dimensions, including family, friends, work, leisure, spirituality and much more. Adele makes sure to go to bed at a decent hour; she finds self-care essential for her to receive and relay psychic messages. She has learnt to live in a state of unconditional love and be grateful; that is a part of her sacred story.
In terms of philosophy for living, Adele thinks the main thing is never to forget how to laugh and smile, never forget the ones we love and never forget we are never really alone – unless we want to be. She believes that 'what doesn't kill us makes us stronger.'
As human beings, Adele feels we need to have times when we can come together to enjoy each other's company. We can live together in harmony; however impossible this may sometimes seem. By being at one with the natural world, the earth, and all of its countries, peoples, and natural beauty, by paying homage to the sun and moon by centring our lives around the spirit and the goddess, we can work together in community. We are part of a fantastic journey and adventure – something that we all share and have in common.
No such thing as a typical day
There is no such thing as a typical day for Adele; after all, every day has its unique challenges and opportunities to make a difference. In a real sense, what Adele does every day is a challenge and a blessing.
What Adele does as a psychic reader is not just a profession or career – it's so much more – it's a calling, and it's a vocation. It's so much more on all levels, and she says that she is so grateful to be rich in spirit in the ways that really matter.
For a mantra to live by, Adele says: At the end of the day – today is what it's all about – yesterday is history, a memory to be cherished, and tomorrow is a mystery and hasn't happened yet – what matters right now is NOW!
Further Readings
All readers at Psychic Light are extremely gifted and bring with them a wealth of experience that they cannot wait to share with you. Learn more about the psychic readers at Psychic Light and how they can aid you in finding clarity today. If this is your first time, be sure to read our guide to selecting the right psychic reader for you.
Posted: 06/05/2022
Related Category: Psychic Abilities