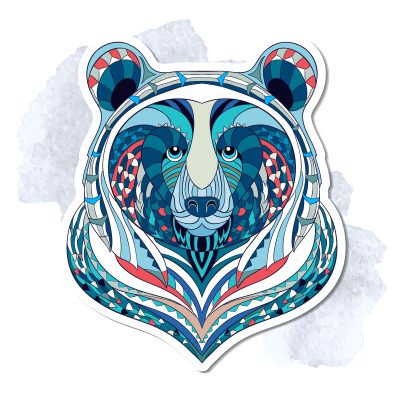 A Spirit Animal also known as a Totem is a representation of your own personal traits and skills. From Pagan origin, it's believed that spirit animals often visit us to convey a message. These animals can be symbolic or real, guiding us in our decisions. Discovery of spirit animals is like taking those first steps to a powerful journey of self-discovery.
Bear
The Bear is a powerful totem worshiped in many cultures; its solitude symbolises independence and rest time, seeing the bear might emphasise a time for healing.
Deer
Just like a Deer you're quick to react and trust your intuitions. Your gentle nature gives you the ability to deal with life's challenges with grace.
Spider
The Spider represents feminine energy, a patient nature with a high level of creativity. The intricate weaving of the web encourages you to view life from many different perspectives. Allowing for well-considered decision making.
Snake
A Snake represents a change in your life. You may be experiencing feelings of uncertainty and apprehension. The snake symbolises the need to remain grounded during these times.
Lion
The Lion spirit never backs away from a challenge. The lion signifies courage! The vision of a lion might be a warning, giving you the strength to deal with difficult situations.
Dragonfly
The Dragonfly represents transformation. The presence of a dragonfly spirit can symbolise the end of a dark period/. Bringing a reminder to let joy and light into your life.
Butterfly
Like the Dragonfly, the Butterfly also represents a change in your life. The presence of a butterfly should encourage you to focus on personal life changes. Its beauty should encourage us to not shy away from these changes but to embrace them and see the beauty in life's journey. Just as looking forward is important, analysis of our past is equally as significant.
Whale
If a Whale crosses your path, you should see this as a trigger to evaluate who you are and where you have come from. A whale signifies wisdom and history, making its presence symbolic of strength and peace.
Crow
The Crow is often associated with evil and darkness. However, its presence is actually symbolic of mystery and magic, making it a far more positive totem. Signifying luck and intelligence the presence of a crow should be embraced.
Sheep
An encounter with Sheep should encourage you to get in touch with your inner child. Representing vulnerability and innocence. This should not be confused with negative definitions of vulnerability but the ability to respect your own personal limits.
Panda
Just as its cuddly stereotype suggests, the Panda represents peace and a gentle type of personal strength. The presence of a panda can be associated with luck and a happy outlook on life.
Are you going through changes in your life or simply feeling inspired by your spirit animal? If so, perhaps you would like to receive a psychic reading? Psychic Light are here to guide you, get in touch with one of our gifted readers today.
Posted: 18/10/2019
Related Category: Spirituality