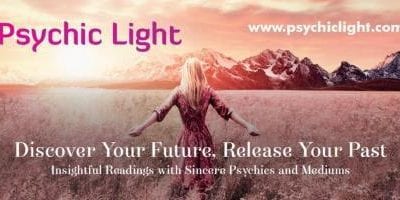 When a patient visits a GP or specialist they often run through the whole allotted appointment skirting the actual problem. Then just as they are leaving they might actually confess what is bothering them. Within the medical profession this has various names: doorknob confessions, doorknob syndrome or a doorknob moment.
The reason why this happens varies, in some cases the person has an embarrassing problem and doesn't know how to raise the topic. In other cases, they have a number of things wrong and have raised several and then have felt hurried and so have left perhaps the most important detail to last. In the case of the elderly, they may not see many people and so relish the opportunity for a chat, and forget to get to the reason they were there.
My reason for explaining this, is that some people can suffer from the same scenario during a psychic reading… But there are ways that you can prepare for the reading and get the most out of the call.
Preparing for the call:
1) It is worth thinking about which type of service to use. You can choose from paying on your phone bill, a call can last a maximum of 30 minutes, but you are free to end the call at any point. You can pay by credit card, you will pay for a minimum of 20 minutes, so this is better for when you have a lot of questions to ask, or a complex situation to discuss. Or you can use our Pre-Pay service, this allows you to top up in advance and then have a mixture of short or long calls as and when it suits you.
2) It is a good idea to think in advance if there are specific questions you want to ask. Sometimes people just want a general reading, and you can tell the psychic reader that is the case and they will do just that. But if for example you are struggling at work, or have a relationship problem, or want to connect with someone that has passed over, then it is better to let the reader know early on that is the purpose for your call on that day.
3) If at all possible, it is a good idea to phone for a reading when you have time and are unlikely to be bothered by anyone else. Both clients and readers often like to meditate before a reading, or just find a quiet moment of contemplation before they phone, so they are ready and prepared to listen to whatever is said.
4) Equally it is a good idea if you have a short period of time for reflection after a reading, sometimes things will be raised that you might not be expecting, and not all of the information will necessarily make perfect sense at the time. Just sitting with what you've been told for a while can be useful.
5) Of course, one of the most important aspects of the call, is connecting with the reader, we provide profiles of each of the psychics and mediums as well as customer comments that pervious clients have left, that can assist you in selecting the best person for your situation.
Then it is just a case of enjoying the experience!
Posted: 26/01/2018