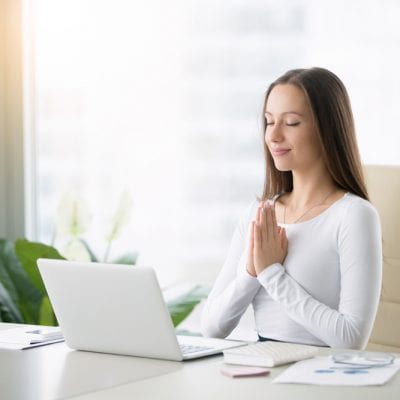 With many people working full time to make ends meet, you will spend the majority of your time in the workplace, which is why it is key to create a more positive approach to your job.
You may want to create better relationships with your colleagues, have a more positive attitude or seek a promotion, either way, using the Law of Attraction in your job can make a difference in furthering your career. If you want to make going to work every day seem less of a challenge and more of an opportunity read on…
Start before work
First things first… If you wake up with a negative mindset, you will carry these thoughts with you throughout the day. Instead, aim to wake up five minutes earlier and visualise your goals before you leave for work. In a meditative state, focus on what you want from your job and picture yourself achieving it. This will put you in the correct mindset to carry on using the Law of Attraction while you are at work.
Continue positive affirmations throughout the day
Starting your day using the Law of Attraction is the first step to achieving your goals, but don't forget to carry on throughout the day! Be consistent and don't let anything stop you from ignoring your goals. For example, if your goal is to gain that promotion you've always wanted, then start by telling yourself "today I will impress my boss by performing to the best of my ability." If your goal is to befriend colleagues, then turn your thoughts to "my kindness and personality will result in colleagues gravitating towards me today."
Cut out negativity from your daily routine
Negativity is extremely powerful in controlling your emotions and positive thoughts which are crucial when using the Law of Attraction. Having a negative voice in your head that questions everything you do will prevent you from achieving positive things. If you find it hard to banish every negative thought that comes into your head, take it a day at a time until it becomes a routine. By committing to saying motivational things about your career to family and friends, you are able to shut down your inner critic and allow the Law of Attraction to take control.
Keep going and take notes
Keep track of your visualisations, hopes and dreams by writing them down in a diary. Start off by writing down what you picture achieving in your career and in the workplace. If negative thoughts enter your mind, go back to your journal and re-read your goals. This will not only give you a reminder of your ambitions but allow you to focus on your career without straying away from your ultimate goal. Lastly, remember the diary can only be filled with positive thoughts!
It is normal when practising the Law of Attraction struggle to avoid and dismiss every negative thought that comes into your mind, but with practice, this will become a sense of habit. If you don't know where to start and are seeking guidance, many of Psychic Light's readers specialise in business and workplace choices. Get in touch and start using the Law of Attraction to benefit you and your decisions today.
Learn more about the Law of Attraction
Posted: 07/06/2017