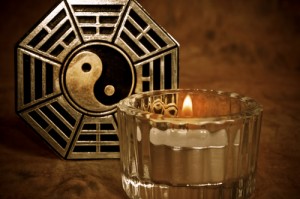 The I-Ching is an ancient Chinese text which contains a divination system, similar to Western geomancy. The word 'I-Ching' can be translated into the English for 'The Book of Changes.'
History
The I-Ching's origins are thought to date back to 3rd and 2nd millennia BCE, making it one of the world's oldest oracles, even pre-dating recorded history. It is believed that the text's origins are rooted in workings from the Chinese Zhou Dynasty. Much like the Bible, there is no certainty about who wrote or contributed to the I-Ching, however, it is generally believed that the book details the accumulated experience of over 2,500 years of diviners and philosophers.
Consulting the I-Ching
As a divination method, The I-Ching has long been used as a method to predict the future, and it could be argued that the system is still as influential in modern readings as it was thousands of years ago. The I-Ching is not only useful for its profound future predictions; it can also be consulted for divine guidance and insight into human nature. The structure of the I-Ching is made up of 64 possible sets of six-line combinations (referred to as hexagrams). The lines that make up each hexagram can be broken (-) or unbroken (- -).
Broken lines are 'yin', unbroken lines are 'yang'. All 64 hexagrams are represented by a different number, each of which holds a different meaning. When consulting the I-Ching, the user simply builds up a hexagram, line by line according to the result of different 'chance' methods. Traditionally this would be by throwing yarrow sticks, or pulling marbles from a bag but coin tossing has become a more popular method.
Formulating Questions and Interpreting Hexagrams
The coin should be tossed six times while the user holds an open question in mind, and the result of each coin toss will allow you to build the hexagram from the bottom line to the top. Questions should be open and general, rather than queries with a 'yes' or 'no' answer. Good examples include:
"How can I improve my relationship?"
"What are my prospects like in my current job?"
"How is my spiritual development progressing?"
You should be in a relaxed, meditative state when consulting the I-Ching, and only focus on one question at a time. Once you have consulted the I-Ching with your question you can look up the exact meaning of the hexagram you have drawn.
You can locate the meaning of each hexagram described in simple text online or in books, but you may wish to have them accurately interpreted by an intuitive psychic reader. One of the most appealing features of The I-Ching is its beauty and simplicity, however, understanding the answers can seem a little complicated to begin with.
I-Ching At Psychic Light
If you are unsure, then allow a Psychic Light reader to guide you with an I-Ching reading. Hope and Lucy are both gifted in I-Ching, so don't hesitate to get in touch and discover the answers to your burning questions.
Learn more about the different methods of divination:
Posted: 18/06/2014
Related Category: Divination