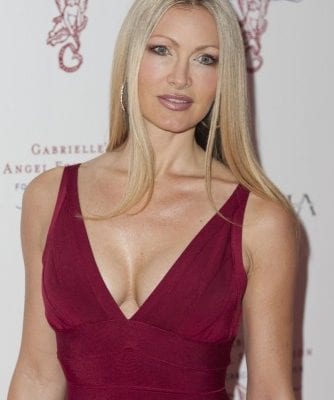 It has recently been reported that model and actress Caprice Bourret was spooked by a ghostly presence in her north London home.
In an interview with Spirit & Destiny magazine, the star revealed how she drove the spirit out of her home after a one-on-one confrontation left her shaken up and worried for the safety of her sons.
Caprice Explains:
The 43-year-old model explained:
"I don't care what anyone else says, ghosts do exist.
"When we moved into our home I'd be in my children's room at night and I'd feel the presence of a spirit. The temperature would suddenly drop in the room for no reason and I'd feel a weird energy.
"I was so freaked out I called a psychic to clear the energy in the house.
"She tried to get rid of the ghost, but ran out of the room screaming."
A Haunting Ghost!
Thankfully, the psychic went on to explain that there was a ghost of a woman haunting the house but that she didn't want to hurt anyone. Caprice had originally feared that the presence was out to harm her 1-year-old sons Jax and Jett, but the psychic explained that the spirit had simply felt attached to the boys and didn't want to leave.
Spirit Contact
The star, who has previously appeared in Celebrity Big Brother and Hollyoaks, went on to detail a particular moment she'd had with the spirit before it eventually left her and her family in peace.
"As scared as I was, my protective mother instincts took over.
"I spoke to the spirit and said: 'I love my boys and I'm here to protect them. If your intention is not pure then you have to go.' It worked. The ghost didn't bother us again."
Other Ghostly Encounters
The report is not the first time Caprice has spoken out about a ghostly encounter.
While filming celebrity diving show Splash! the reality TV star became aware that the hotel she was staying in was also haunted by a ghostly presence.
She said: "My book was thrown across the floor, while one side of the room was freezing, the other was roasting. "I was terrified."
Communication from the other side…
Although it may appear to be detached from the physical world that we live in, the spirit world is actually in constant interaction with us. It is only through mediumship that we are able to consciously communicate with those on the other side.
Try a Psychic Reading for yourself
At Psychic Light, many of our readers are also gifted psychic mediums who can pass on messages from those in the spirit realm. Fran, Mavis and John are just a few of our talented mediums who can give you direction on a whole host of subjects including financial worries, love and relationship advice, family concerns, wellbeing issues and psychic career advice.
If you're looking to connect with the spirit realm, why not get in touch with a psychic medium via phone bill or credit card today and find out what the other side is waiting to tell you!
Photo – Editorial credit: Featureflash Photo Agency / Shutterstock.com
Posted: 12/08/2015