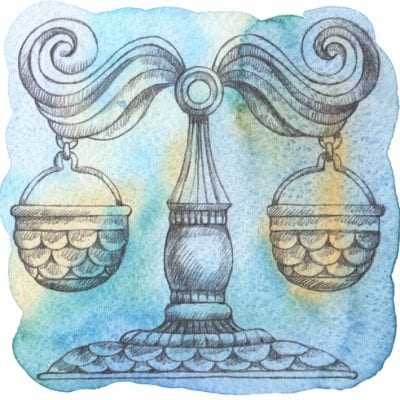 If your birthday falls between September 23rd – October 22nd then you are born under the zodiac sign Libra.
You love social events, and your gracious manner befriends many people you come into contact with. However, your indecisiveness and self-pity will detract certain zodiac signs away. Social graces come easily to Libras, who have no problem understanding people and making friends. Having said that they often like being alone.
Libras symbol is, of course, the scales, and as such their life challenge is about finding balance.
Dating a Libra
Libras are fantastic at making others feel good; they are both charming and seductive. You will be under no illusion if they like you they will make it clear. It is easy to feel 'swept off your feet' by a Libra, but they can cool quickly, so if you are in the early stages of dating bear this in mind.
While a Libra doesn't stand on ceremony, they are easily bored, and so making an effort when planning a date is a good idea. A picnic in their favourite park, a concert, a trip to a new restaurant all add excitement and entertainment which Libra enjoys. But as much as they like an interesting location, you will need to be equally amusing. Libra will look at you as a whole package – your looks and how much effort you made, your job, what interests you have, your conversation – so bring your best game!
The most important aspect of dating a Libra is being engaged, they want interesting conversation, they want to know that you remembered what you spoke about last time and that you care enough to follow up. If you demonstrate a lack of attention – they will quickly reciprocate. They do like to be in the driving seat, and like to make the first move, this also counts when it comes to rejection, they will strike first.
Libras do have vain qualities about them, they are impressed by status and social standing, they will only be seen in public with those they deem worthy and capable of looking and acting the part.
When Libras are happy, then you can expect a very giving person who is all-in and giving their full attention. They are close to their partners, but not usually affectionate. They are fun-loving personalities, but they can be sarcastic, and not everyone enjoys their playful way of showing they care.
The scales (symbol of Libra) also plays a part in the sense of justice, which is important when in a relationship. When things go off course, it is best to address any issues early on – leaving things to fester will end badly. They will want to explain their motivations/intentions and will expect you to do the same – but make no mistake they will do the judging of who is right and who is wrong. But having said that they will want to resolve any arguments with both sides treated equally, and with all ends tied up.
As a Libra what is your perfect zodiac match…
Libra and Leo
The love that these two star signs have for each other can be seen a mile away. The love is real and visible making many onlookers envious of the love they share. Marriage and starting a family is in their future, and they have no hesitation with this level of commitment as it is what they both seek, what they want and have now found. Read more about the Leo star sign here.
Libra and Sagittarius
The main strength that these signs possess is their compatibility when it comes to the emotional side of their relationship. They not only follow their heart but also use their heads as well which allows both a Libra and Sagittarius time to understand the depth of love they are feeling. When they learn how to respect each other's dreams, wishes and personality traits; it is likely they will live happily ever after together. Read more about the Sagittarius star sign here.
Libra and Gemini
A Libra and Gemini have different strengths and weaknesses which makes their bond strong. A Gemini tends to lead the way in the relationship and enjoys making decisions, whereas a Libra will not hesitate to follow their partner due to the fear of being alone and independent. Even though they have their disagreements, their signs can overcome many things making their relationship stand the test of time. Read more about the Gemini star sign here.
As a Libra what star signs are best avoided…
Libra and Cancer
Trust is one of the most important parts of a relationship, but Libra and Cancer signs find it hard to establish this trust, their relationship is on the rocks before it has even begun. Their difference in needs and personalities also causes stress on their relationship – a Cancer seeks someone to be responsible and protect them at all times, whereas a Libra seeks someone who is strong, energised and able to follow their dreams. Read more about the Cancer star sign here.
Libra and Capricorn
A Libra has no trouble exposing their emotions and the way they approach their feelings. However, a Capricorn believes they do not have to face their emotions and find it hard to open up due to their ego. This can cause tension as a Libra will have trouble understanding where they stand. They will have to work on their relationship day in and day out in order to find a way to show and understand each other's emotions. This will be hard work and one day, one of the signs may become too drained at making the relationship work and decide it is easier to break up. Read more about the Capricorn star sign here.
Are you finding your current relationship a struggle, and feel like you need advice on your future? Alternatively, are you wondering when your soulmate will come your way? The psychic readers at Psychic Light can offer valuable insight, advice and warning signs to guide you to a brighter future. Don't forget you can check your monthly Libra horoscopes to see what the zodiac has in store for your love life.
Posted: 25/05/2018
Related Category: Astrology