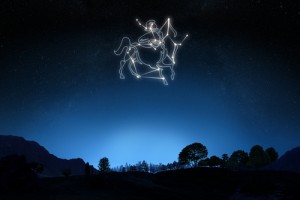 Those born between November 22nd and December 21st are born under the sign of the archer, Sagittarius. Read on to find out more about this prominent, old zodiacal sign.
Basic Facts:
Your element: Fire
Your ruling planet: Jupiter
Symbol: The Archer
Your stone: Topaz
History & Mythology
Most interpretations conclude that the mythology of Sagittarius relates to the story of Chiron the centaur, accidentally shot with a poison arrow by Hercules. It is thought that Chiron changed himself into a horse to escape his jealous wife Rhea. Chiron was renowned for his gentleness and kindness so in recognition of this, Jupiter placed him in the sky as the constellation Sagittarius. Ancient drawings and images of Sagittarius have been found dating back to the Assyrians and Babylonians. 
Traits
Enthusiastic, independent and outspoken, Sagittarians are said to be the most fun loving people in the zodiac. They rarely tell lies and are open with their feelings and opinions, no matter how undiplomatic. The Sagittarius is the traveller of the zodiac and their energy draws them to explore and search for new places and experiences.
Due to their positive and encouraging nature, Sagittarians make great friends that will do anything to make those around them feel happy. Their kindness is selfless and they often treat people how they would expect to be treated. Easy-going, with a good sense of humour, Sagittarians make friends with people from all walks of life.
Sagittarians have keen, inquisitive minds. They are fast learners and profound thinkers and often work well with others. They can be counted on in the workplace because of their excellent intuition – they can tell straight away if an idea is a good one or not.
However, bear in mind that Sagittarius is a fire sign. Their quick temper often gets them into trouble and they can speak without thinking. Because of their need for travel and adventure they can often get bored or restless when they are surrounded by people or situations they have no interest in. This can make them come across as emotionally detached or unaware of others feelings. 
Famous Sagittarians
Born entertainers with no shortage of ideas it is no surprise that many stars are born under the sign of Sagittarius. Research has shown that Sagittarians are more likely to reach success at a young age, demonstrated by celebrity child stars Britney Spears, Christina Aguilera and Miley Cyrus. Their ambition and drive make them a recipe for success in the cutthroat world of showbiz.
Other Sagittarian success stories include Walt Disney, Steven Spielberg and Brad Pitt.
The date of your birth has long held significance for your future life with many astrologists using this information to see how the stars and planets will influence us throughout our lives. If you are born under Sagittarius and want to find out more, some of our specialist readers include Yianna, Katy and Helen so don't hold back- give us a call today!
Posted: 23/11/2016