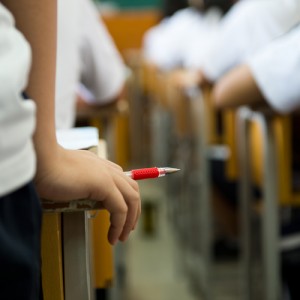 As the excitement of summer 2014 draws to a close, the beginning of September reminds us that it's time to put away the beach gear and open up textbooks ready for back to school. As school life becomes increasingly stressful and fast paced for our children, there is a tool that could help them become more mindful, calm and focused this September.
What is mindfulness?
Mindfulness has become something of a buzzword in mainstream education. It is essentially a practise that helps you shut out the 'buzz' and achieve mental clarity, which leads to better awareness, concentration and the ability to be fully 'present' in the moment. Mindfulness could be described as a lighter, waking form of meditation that doesn't require you to completely shut down.
Mindfulness in schools has become increasingly popular due to the backing of the scientific community. Studies have identified that this ancient Buddhist practise can reduce stress, improve focus and boost working memory – all qualities that teachers would like their students to have! In schools where mindfulness has been introduced, children have reported feeling happier and more peaceful throughout the school day, and teachers have identified improved focus, attention and consequently, better learning in the classrooms.
What can you do?
It's up to you as a parent how deeply you delve into the mindfulness concept. You may want your children to practise daily mindfulness routines, or you may just wish to take a few key concepts from the practise to enhance their general wellbeing and learning. Being mindful is a great quality for any child to have, and explaining the concept doesn't have to be difficult. In fact, the simpler you make it, the more likely it is that he or she will understand it. Some tips and techniques when practising mindfulness include:
Mindful breathing – draw their attention to the sensation of their breathing, taking long, deep, slow breaths.
Focus on sounds
Story telling
Discuss feelings, thoughts and emotions
Guided relaxation
Meditation spot – create a dedicated peaceful meditation space in the house that only they use
Set specific times – children will respond to frequency and routine. Practise mindfulness at the same time each day – 3-5 minutes is realistic
Like adults, children experience stress and may become emotional, sensitive and short tempered as they go back to school.
It's easy to send our children off to school and expect them to dive straight back into concentration and focus but in today's world that is often easier said than done. Practising mindfulness with your child this September may help them relax, de-stress and stay grounded and 'in the moment'.
If the start of this September is getting too much for you then Psychic Light can give you the support you need to get through with as little stress as possible. Don't hesitate to get in touch with one of our psychic readers now.
Posted: 03/09/2014