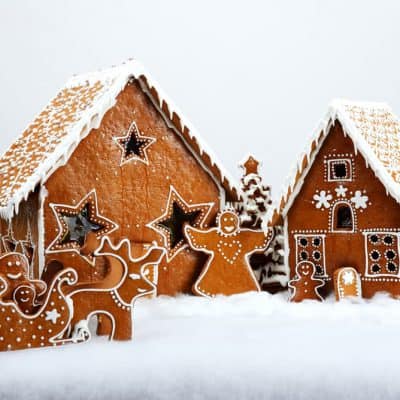 Have you been perfecting your baking skills this year, then, why not try baking and building a gingerbread house?
Gingerbread dough is a very forgiving dough, making it the perfect project for children to get involved in. Or big-kid's that are inexperienced in the kitchen!
Hansel and Gretel
It is thought that the concept of decorated gingerbread houses harks back to Germany. Popularised by the fairy-tale Hansel and Gretel. Of course, if you remember this story, you will realise it's not Christmassy at all! In the story, the house was in fact built of bread. Later German bakers would craft houses using spiced honey biscuits (lebkuchen), then eventually this changed to gingerbread.
There are kits that you can buy, with ready-made pieces of the house for you to construct and decorate. However, it's actually not that difficult to make one from scratch.
Follow a few simple ideas:
Follow a recipe specifically intended to make a gingerbread house. Not a recipe that will end up as a soft-like cake!
https://www.bbc.co.uk/food/recipes/mary_berrys_gingerbread_91126
https://www.bbcgoodfood.com/recipes/simple-gingerbread-house
Royal icing, made from icing sugar, egg whites and lemon juice makes the perfect 'cement' to hold your house together. As well as act as a decoration in the form of things like roof tiles and snow.
Starting with a template can make things much easier. Ensuring you get a house to scale, with sides and roof panels that will fit neatly together.
https://media.immediate.co.uk/volatile/sites/30/2013/04/gingerbread-house-2576-1-33b538e.pdf
Don't roll the dough too thin. Otherwise, it will be hard to make it stand up and stick together without breaking.
Try baking the dough on baking paper for easy manoeuvrability. Don't overcook it, or it will colour and taste burnt.
If you are a little more experienced… You could try baking in 'stain glass windows to your designs, using boiled sweets.
You may want to bake the structure of the house and cool it overnight for the gingerbread to fully harden. Then you can start decorating the next day.
Buy plenty of sweets for decoration, eating them along the way is half of the fun!
For the more advanced baker…
Why not try Anna Olsen's chocolate spice gingerbread house cake?
https://www.foodnetwork.ca/recipe/chocolate-spice-gingerbread-house-cake/20996/
Posted: 22/12/2020