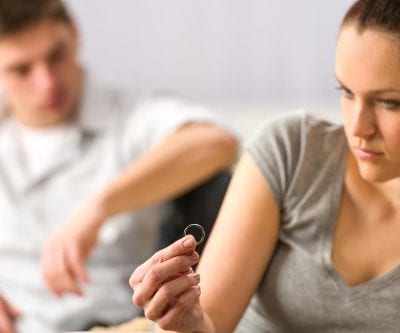 While most people wouldn't dream of going through their partner's post or searching through their bag, it seems that Brits aren't so hesitant to go snooping around their spouse's social media pages.
A new poll by law firm Slater & Gordon has revealed that almost half of Brits secretly check their partners Facebook page, with 1 in 5 going on to argue every day about their findings! The poll also shockingly revealed that 1 in 7 married partners have seriously considered divorce over their spouse's online behaviour.
Head of family law at Slater & Gordon explained; "Social media can be a wonderful way of keeping in touch with family and friends, but it can also put added strain on a relationship." "Five years ago Facebook was rarely mentioned in the context of a marriage ending, but now it has become commonplace for clients to cite social media use or something they discovered on social media, as a reason for divorce." 15% of those polled by the law firm said they considered social media to be dangerous to their marriage, with Facebook considered the worst followed by WhatsApp, Twitter, Snapchat and Instagram.
Mr Newbury added: "We are finding that social media is the new marriage minefield." "Divorce is already a stressful time for everyone involved and what is being posted on Facebook can antagonise families and make a speedy resolution more difficult to achieve." "We are now actively advising our clients to be cautious when it comes to using Facebook and all forms of social media because of its potential to damage relationships." While it may seem bizarre that social media sites such as Facebook and Twitter could bring an end to a marriage, in a world where we are constantly 'tuned in' it's becoming more and more of a reality.
If you have become concerned about something you have found on your partners' social media, make sure you take a deep breath and stand back before you react. It's wise to remember that things like tone and intention can be easily misinterpreted online, and there may not be as much to the story as you think.
If you still feel uneasy about your relationship or are unsure what to do about a potential discovery then get in touch with one of our specialist readers. Tarot card readings are a great way to understand your current situation and learn about the events you can expect to encounter in the future.
Psychic Light readers Joanna, Carla and Matthew all share great expertise in Tarot interpretation and may be able to guide you in making a decision about your relationship. A Tarot reading could be exactly what you need to realise that you need to take action in your relationship or reassure you that your current situation is what's right for you. It could also prepare you in advance for any challenges that might lie ahead. Our professional psychics have the necessary experience to guide and advise you in all aspects of love and relationships so get in touch today.
Posted: 10/06/2015