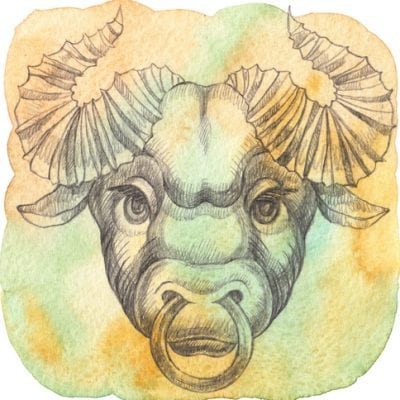 If your birthday falls between April 21st – May 20th you are born under the star sign Taurus.
When looking for love, a Taurus heart searches for true love and security.  Even though you are extremely reliable, responsible and stable, you also have traits of possessiveness and stubbornness which can make you clash with certain people.
Read on find out who you are most compatible with and which star signs you may want to stay away from…
Your perfect match…
Taurus and Cancer
A Taurus and Cancer each share the same traits and goals – eternal love, a healthy family and a home that they can both share together. These goals bring them closer together and their trust and loyalty can be hard to break. As well as sharing lots of different interests, they are extremely open towards each other, making communication a strong characteristic in their relationship. Even though a Taurus can be stubborn at times, Cancer has a gentle and compassionate approach to each situation which can be great for calming a Taurus down. The result? This relationship will stand the test of time as long as no obstacles stand in their way. Read more about the Cancer star sign here.
Taurus and Virgo
This relationship could be a match made in heaven if they learn to trust each other and overcome their fear of being hurt. Once both signs let go and give in to their emotions, they will both fall madly in love. Since a Virgo finds it very hard to trust somebody, a Taurus' stubbornness can mean a Virgo may find it hard to talk to them or explain their feelings. If a Taurus ensures that Virgo feels important and secure, in return they will have an honest and faithful relationship. Read more about the Virgo star sign here.
Taurus and Pisces
These two signs have the ability to communicate with each other both verbally and non-verbally. They know and understand each other without feeling the need to fill any silence that enters the room. A Pisces will make a Taurus feel loved and cherished which is extremely important to a Taurus when in a relationship. Their mutual desire of romance and beauty in life means their relationship will last as long as they respect each other's unique traits. Read more about the Pisces star sign here.
Who to avoid…
Taurus and Leo
Both these signs can be extremely stubborn, making it hard to find reconciliation and a middle ground. This makes communication difficult and as a result, emotions will run high. They have opposite values and different natures, making a long-term relationship a challenge that may not stand the test of time. Read more about the Leo star sign here.
Taurus and Aquarius
Even though a Taurus can be stubborn and possessive, they are also tender and affectionate, unlike an Aquarius who runs from any emotional expression. An Aquarius can be strongly opinionated which can scare a Taurus away and reluctant to open up. They are from different worlds and since an Aquarius seeks an exciting relationship and a Taurus craves a peaceful relationship, they may find themselves searching for something that isn't there. Read more about the Aquarius star sign here.
If you're interested to see what's in store for you this month or this year, why not check out our free monthly taurus horoscopes.
If you have concerns about your love life or want some guidance in a current relationship, speaking to one of Psychic Light's experienced psychic readers can bring light to your situation. Discover your future and get in touch today.
Posted: 20/06/2018
Related Category: Astrology