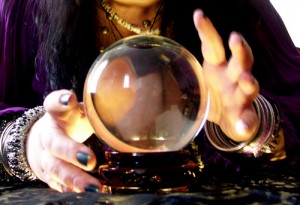 Scrying is one of the oldest methods of divination, used for the purpose of clairvoyance. The word 'Scrying' is derived from the old English word 'descry' which means 'to reveal' or 'to make out dimly.' Scrying can assist in divining the future, gaining insight into the present and revealing information buried in the past. Scrying is most often practised by gazing into a crystal ball, although any object with a shiny, reflective surface could potentially be used.
History Of Scrying 
It is thought that Scrying is one of the earliest forms of divination in recorded history, with its roots tracing back to China in 3000BC, Egypt in 2500BC and Ancient Greece in 2000BC. The ancients used to use instruments such as cracked eggs, crystals and vessels filled with oil to gaze into as a form of Scrying and divination, however as time progressed and methods developed, mirrors and crystal balls became synonymous with the art of Scrying, stereotypically used by old gypsy women.
Methods of Scrying
Scrying can take on many forms, and methods vary widely however crystal spheres are perhaps the most commonly used instruments. Most modern-day orbs are made of plastic, glass or crystal, with some types of stone said to be more receptive than others. Selenite, Hematite and Ruby are all good examples.
Initially, the scryer removes unwanted thoughts from the mind – some methods actually involve a self-induced trance in order to achieve full focus and concentration. Many readers choose to perform Scrying at night in order to receive better psychic vibrations, using candles or dimmed lights to guide them.
The reader then takes their chosen instrument in their hands and focuses deeply, connecting to its energy. Once a trance state is achieved, the scryer can focus on their intentions of Scrying and ask the object questions or seek to look into the future.
The Scrying Process 
Once intentions have been made clear, the scryer can begin to interpret different visions coming from the medium used. These visions could take the form of different colours, cloudy glows, or small impressions and insights. The scryer usually declares these initial visions out loud, however small or insignificant they may seem.
This technique actually deepens the trance state, and the process culminates in the desired end stage, which allows the scryer to "see" dramatic events or rich images projected within the chosen medium, or directly within their minds eye. For those looking to start Scrying, you can practise by looking at water, clouds or even stones in pieces of jewellery. Pay attention to shapes, colours and patterns and let your imagination run.
With a little commitment and practice you can begin to tap into your inner knowing, however, it is advisable not to practise Scrying for longer than about 20 minutes, or use it to replace rational thinking.
Scrying At Psychic Light 
Many of Psychic Light's readers are fortunate enough to have assisted thousands of people with their gifts in Scrying so if you wish to speak to one of our experienced psychics then get in touch with Aelissa who is skilled with a Scrying mirror, or Toby and Cheyenne who are practised users of the crystal ball. We look forward to hearing from you!
Learn more about the different methods of divination:
Posted: 16/07/2014