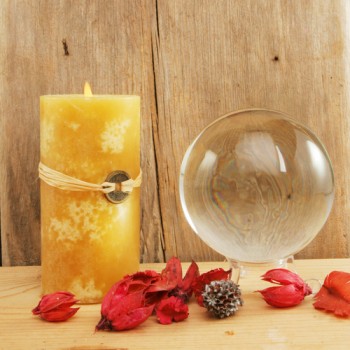 Do you ever wonder what the future holds for you or what you would do differently if you knew what lay ahead? Divination (sometimes referred to as fortune telling) is a process which predicts certain information about a person's life. Someone who practises divination usually looks at different factors in order to give someone advice on what is to come in their future.
Divination has had a special place in society since ancient times, but has grown rapidly in popularity over the past few decades. There are hundreds of techniques and methods to divination, some of which date back centuries. Evidence indicates that forms of fortune telling were practiced in ancient China, Egypt, and Babylonia as far back as 4000 BC. Prophetic dreams and oracular utterances played an important part in ancient religion and medicine.
Every human culture has developed its own practises in foretelling events. The oracles of ancient Greece predicted the birth of heroes and triumph on the battlefield. Medieval kings had their court astrologers and wizards, who were consulted about political matters and marriage choices. Over the next few months we will be looking in depth at a number of different methods of divination, however for now we have a short introduction.
some of the most popular methods of Divination :
Astrology – Interpretation of the movements of heavenly bodies as influences on earthly events. (Specialist email reader: Chrystalyte)
Numerology – The study of the symbolism of numbers, used to determine a person's personality, strengths and talents.
Tasseography – Interpreting messages in tea leaves, coffee grounds or wine sediments.
Crystal Ball – A form of astrology developed by gazing into a crystal ball or sphere to predict future events.
Scrying – The practise of looking into luminescent objects such as water, mirrors, fire or smoke with the belief that things can be seen.
Graphology – The study of handwriting.
Psychometry – Where a person can sense or "read" the history of an object by touching it. (Specialist reader: Hope)
Dowsing – The art of finding hidden things, often ground water or buried metals/gemstones.
I Ching – Most commonly known as an ancient Chinese method of divination.
Geomancy – Interprets markings on the ground or the patterns formed by tossed handfuls of soil, rocks, or sand
Palmistry – The study of lines on the palm of the hand.
Psychic Readings at Psychic Light
Divination need not be simple fortune telling, it can be an effective means of revealing hidden dynamics of a person, a relationship or within a group. Divination is yet another way that we, as psychics, can try and go beyond the surface and look at causes rather than effects.
Make sure you look out for our upcoming blog posts to find out more about these methods and contact one of our psychic readers today to experience the powers of divination.
Posted: 19/02/2014
Related Category: Divination