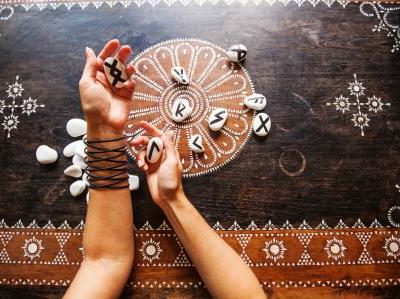 There are twenty-four stones that make up a Runes set. As with many divination tools, there are different interpretations. For example, some people believe that when a reading is carried out, stones that are inverted/reversed still have a meaning, while others will consider these stones shouldn't be interpreted, as the runes energy is not present.
25th Stone
In more modern runes sets you may find a twenty-fifth stone, which is blank. Folk may interpret this stone as representing self-creation and your destiny. Other readers may feel it is about beginnings and endings.
8, 8 & 8
Some psychics may like to split the runes up, the first eight meaning the 'conscious realm', the second set of eight representing the 'unconscious realm' and the last set of eight interpreting the 'transformational realm'.
Runes as a Reading
A typical Rune reading, will ask the enquirer to select five runes. Normally all of the runes are placed into a natural cloth bag. Whilst selecting the stone's it's important to focus on the question being asked. Often a compass layout will be used: the stones are placed face down with four at compass points and one in the centre. North deals with the past and possibly the root cause of the issue at hand. East looks at 'fate', factors in the current moment. South tackles hidden issues that might not have been considered. West provides advice on the problem and the Central stone is the outcome.
Runes and their Interpretations
It's not unusual for there to be slightly different names or spellings of the rune stones. We will be looking at the common names and meanings for each of the twenty-four stones in the rune set:
1 – Fehu
Purpose – Abundance – Material Wealth – Respect – Hard-Won Success.
Now is an auspicious time for you, luck is on your side. It's a good time to start something now, things already started will come to fruition. To be really rich in mind, body & soul – share your wealth.
2 – Uruz
Strength – Healing – Passion – Creativity – Willpower.
You can pretend to feel brave, and overcome your weaknesses. It's time to ask of life what you want for yourself – in your love-life, work-life and more. This is a period of luck, health and happiness for you. Treat others kindly and with tact.
3 – Thurisaz
Protection – Release – Direct – Precise – Contemplation – Overcoming Difficulties.
You are looking at a period of difficulty, it will be something out of your control and it's not your fault. But this stone has a protective force and you will get through things. Review the people in your life, make sure they are all positive influences.
4 – Ansuz
Communication – Truth – Decisions – Wisdom – Unexpected Outcomes.
Now is a time to trust your gut feelings. You can be persuasive and talk your way in or out of a situation as required. Both talk and listen – to actual conversations, and your inner-voice! Be open to guidance from others.
5 – Raidho
Willpower – Life Direction Decisions – Learning Lessons – Journeys.
New experiences are opening to you – now is the time to literally step out of your comfort zone. You might have been looking at some sort of change. Don't let rigid thinking keep you still. Embrace a larger world-view.
6 – Kenaz
Action – Creativeness – Light at the end of the tunnel.
It's quite possible you will meet someone that will turn your world upside down! Passions will flow, but be careful you don't get burnt with all of the heat. Strong energy is good, but recognise it also needs controlling and tempering.
7 – Gebo
Partnerships – Equals – Generous – Thankful – Selfless – Deep-Relationships.
A gift is likely to be exchanged, it could be a physical object, or more metaphorical – such as the gift of wedding vows. A gift is best given with no expectation of something in return – wise sentiments to remember.
8 – Wunjo
Celebration – Joy – Happiness – Contentment – Positive Outcomes – Accomplishment.
Good health is on its way to you – great news if you've been feeling under-par. You will enjoy a sense of positivity and community around you. Home and romance are both well, you can expect success and glee. Joy often comes from acceptance.
9 – Hagalaz
Fear – Setbacks – Change – Upheaval – Disruption – Past.
A storm is coming your way, but hang-in there, as this too shall pass. Check in with yourself, especially over things in your past, still impacting the present. You may need to face up to a major change, to stop limitations in your future.
10 – Nauthiz
Survival – Instincts – Patience – Priorities – Hard-Work.
You may feel overwhelmed, your needs are currently being outstripped by your priorities. In a crisis situation, you have to sort the wood from the trees – do only what is essential, put everything else aside. Have confidence you'll come through this.
11 – Isa
Reflecting – Misunderstandings – Barriers – Stillness.
This is a period for taking stock, it can feel uncomfortable to reflect. But it's necessary to ensure everything is as it should be. Relationships especially should get some scrutiny – do feelings run deep enough?
12 – Jera
Passage of Time – Patience – Completion – Reaping what you sow.
Sometimes it is hard to keep going, taking time to reflect on how far we've come can be just the reward we need. Taking pride in ongoing efforts, ensure that we enjoy the journey as much as the outcome.
13 – Eihwaz
Expectations – Endings & Beginnings – Facing Fears – Boundaries.
This stone is all about the 'cycle of life', coming to terms with your past has never been so important. Remind yourself that after death, there is rebirth. No matter how difficult things have been, a renewal period is on its way.
14 – Perthro
Destiny – The Unknown – Chance – Fate.
Now is the time to take a risk! It might not be in your nature to gamble, but providence is on your side… Its time to feel inspired, to be creative, to seek laughter, joy and happiness without any feelings of guilt.
15 – Algiz
Peace – Protection – Emotions – Talent – Temptations.
Check your inner-circle, is there anyone lurking that truly doesn't have your best interests at heart? Now is not a time for hasty decisions, definitely trust your intuition, move ahead slowly and with caution.
16 – Sowilo
Power – Guidance – Hope – Leadership – Knowledge – The end game.
You will enter a period of sheer optimism, likely buoyed by a new figure in your life – a real guiding force. Self-confidence will soar, so now is a great time to embark on a new project. Don't let fears and doubt hold you back.
17 – Tiwaz
Courage – Trust – Honour – Selfless – Reliable.
You may be entering a battle of some kind, perhaps it is work related, or even a legal matter. It will be a fight, but you have the strength and your principles are at stake. Don't compromise, now is a time to stand your ground.
18 – Berkano
Nurturing – Renewal – Fresh Starts – Union.
Success is coming your way, this may be in the form of a new relationship, or even in career success. New ideas are likely to flourish – so, now is the time to move ahead with them.
19 – Ehwaz
Cooperation – Bonds that tie us – Team-work – New journey.
Your relationships are entering a period of stability, they are loving, harmonious and strong. This is true of family, partners, friends and even work colleagues. You will provide others with help and support and they will return the favour.
20 – Mannaz
Compassion – Intellect – Courage – Humble.
It's time to analyse your behaviour, are you treating others the way you would want to be treated? It may be hard to look at your weaknesses, but it is the key to valuing and loving yourself. Spend quality time with your loved ones.
21 – Laguz
Intuition – Insights – Emotions – Learning from past mistakes.
Your emotions are ebbing and flowing during this time, you may experience some stormy times ahead. You are moving in a forward direction, even if at times it feels like you are taking some steps backwards.
22 – Ingwaz
Personal-Growth – Potential – Projects – Beginnings.
Fruitful beginnings of projects, ideas or even relationships are happening. You are in a groundwork phase, now is a time for evaluating and planning. Taking action will come later.
23 – Othala
Inheritance – Home – Possessions – Traditions – Values.
Home is where the heart is, sums up this stone's sentiment. You feel secure both physically and spiritually from your homestead. This is a time to appreciate all that you have, feel gratitude and take refuge when needed.
24 – Dagaz
Wisdom – Balance – Renewal – Opportunities – Enlightenment.
Clarity will soon be yours. Darkness will lift and light will illuminate the way. Understanding problems, will allow you to push forward. You are at a turning point, but the period is hopeful. Enlightenment is yours for the taking.
Posted: 01/06/2020
Related Category: Psychic Abilities