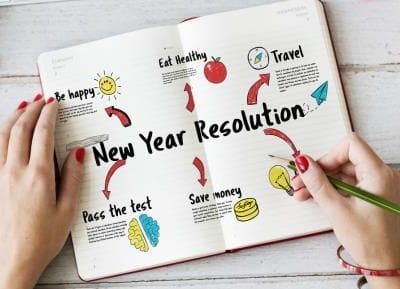 Did you set New Year resolutions for 2018? And, how are they going so far – are you still committed, or is your will-power already wavering?
Have you ever thought about whether a psychic reading could assist you in achieving your goals this year?
Well, very often people attack the New Year with many things they want to change about their lives or habits. Popular resolutions are losing weight, exercising more, giving up smoking, cutting down on alcohol, taking up a new hobby and finding a new job etc.
The very nature of trying to make so many changes, or tackle so many areas leaves people quickly unenthused and feeling overwhelmed and so one by one the goals fall by the way side.
Talking to a psychic reader can really allow you to hone in on the issues that most caused you upset in previous years. Perhaps staying in a stale relationship is zapping you of energy and zest for life and as such you are comfort eating… Maybe feeling unexcited about your job, has caused you to hibernate a bit in the winter watching too much TV and doing no exercise.
Talking with an objective person rather than family and friends can sometimes help really unravel a problem. Often issues are interconnected, so if you resolve to concentrate on one area of your life, many other areas will naturally fix themselves as time goes on.
A psychic reading very often provides clarity – a sort of light bulb moment, on what the real problem is. It's not always easy to face the issues that are going on in our lives, sometimes we skirt around them by thinking if I just fix this and then I sort that everything will be better again, but in reality, nothing will be better unless you address the deep-seated issue, the real problem underneath it all.
Not every psychic reading will end in a light bulb moment, sometimes it takes some time for the information passed on from the reader and their spirit guides to sink in and start making sense. Perhaps during the reading, you may even feel a bit resistant to what is being suggested – and that's fine. After all, it is your life and you have free will to make any choices you want.
Sometimes, with New Year resolutions it is just a case of trying to address too many things in a vague manner. Once you have spoken to the psychic and narrowed down the most important goal for 2018, then it is a case of breaking down that goal into many small things that you can start to achieve on a daily basis. Gradually small achievements will build to real results and this will encourage you to stay on track.
But don't forget Psychic Light is always here and you can check back with the reader at any time, if you feel yourself waning in enthusiasm, or need to re-focus on your goal and the reasons why you set yourself that task in particular – then give us a call!
Happy New Year, and good luck with any resolutions you set yourself…
Posted: 12/01/2018