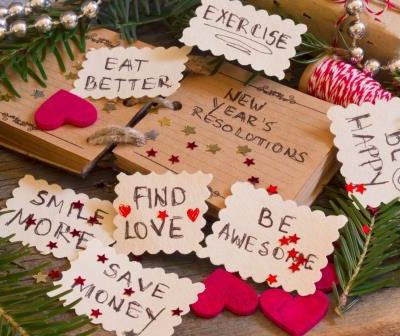 Even if we don't label them New Year Resolutions, most people ponder at this juncture what will the year ahead have in store for me. You might also have a list of goals and things you want to achieve.
Despite us all being unique, it is surprising that year-in, year-out the same themes crop up for ways we want to improve our lives:
Find love, or sort out problems in an existing romantic relationship.
Lose weight.
Improve fitness.
Give up smoking.
Cut back or completely stop drinking alcohol.
Change job or even have a complete career change.
Move home, or embark on a DIY project.
Learn a new skill; for example: play an instrument, learn to cook, or speak a new language.
Pay down debts and save for a rainy day.
Book a holiday, and travel more in general.
Get a better work/life balance and reduce stress levels.
Spend more quality time with family and friends.
These aspirations are admirable, but often, we fail miserably with New Year Resolutions. Sometimes, this is due to approaching too many things at once. Other times, it is because our enthusiasm wanes as time goes on and everyday life gets in the way. It can also be that our route to achieving the goal is not targeted or specific enough. We may also find it hard to track progress.
It is possible that you already have Psychic Readings, and maybe you stick to the same reader. As such, you may not realise that many of the readers are specialists in particular fields that could support you with your New Year Resolutions/changes. 
New Year Resolutions Readers:
Adele – PIN: 3622
Adele believes in change; she feels that complete transformation is possible. She can assist you in letting go of the past; and limiting beliefs, guiding you to embrace new and exciting possibilities and opportunities.
Bryony – PIN: 2727
Bryony has many years of business experience; she focused on business development and troubleshooting. She can also advise on workplace relationships and is particularly good at supporting issues around self-doubt, self-esteem problems and low confidence.
James – PIN: 2020
James specialities are love and relationship readings, dream interpretations and spiritual life coaching. If you're looking for insight and clarity with a relationship issue. Or simply life is getting on top of you, then James will endeavour to ease the burden and guide you to feeling lighter and more positive.
Jasmine – PIN: 5115
Jasmine is a great reader to turn to if you are struggling with family dynamics; and the topic of raising young people. She also understands grief. The feelings that come from someone passing away. Then a different type of grief when a marriage or serious relationship breaks down. Jasmine is sensitive, authoritative and compassionate.
John – PIN: 5152
As a reader, John is lovely to talk to – he is warm and kind. If you need closure on a subject; then, John is a great psychic to turn to. John is a very positive person, firmly believing that we should never give up and that living is all about embarking on new adventures. His motto is that there is always light at the end of the tunnel!
Norma – PIN: 1414
Norma is a Psychic Agony Aunt. If you have relationship troubles – then why not give her a call? She specialises in in-depth relationship readings. These can be romantic, but also family or even work-based. Norma is particularly good at tuning into and understanding the feelings of those around you – giving you a whole picture.
Robbie – PIN: 3443
When you need pure positivity in your life, you can turn to Robbie. He is a natural healer, and your secrets are always safe with him. He loves finding solutions to problems and setting you on the right path – he's at his happiest when you have a really 'aha' moment! Robbie lives a spiritual life infused with prayer, yoga and meditation.
Sandra – PIN: 2662
If you have wanderlust in your heart, why not speak to Sandra? She has travelled all over the world and has said yes to many different experiences – no matter how scary they have seemed. Sandra offers guidance and spirit messages when people need support the most.
Seph – PIN: 1369
If you want to feel clearer, wiser and happier – then Seph might be just the reader for you! Work and relationships are her forte, but you can ask her anything – guarantee that she will be direct with you in her response. Just what you need when trying to decide which changes to make.
Sadly, I don't have enough room to expel all of the life experiences, skills and abilities the whole reading team have. But you can check out their profiles here. It is worth considering a psychic reading to help you make 2022 your best year yet!
Posted: 21/01/2022
Related Category: Psychic Readings