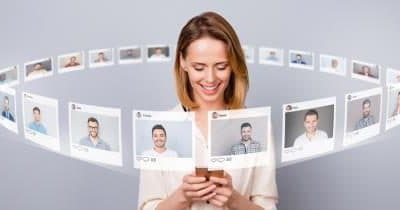 Today, we are delving into the world of Online Dating!
According to ONS data divorce rates peaked in 2003 and then fell as a general downward trend until 2019. More recent data, following Covid and lockdowns, may well amend these trends as and when the info is collated.
There is an online calculator that allows you to see how many divorces have resulted in the year you got married. I put my marriage year in, and there were 273,000 marriages (rounded up), and a shocking 38% resulted in divorce. When I looked at stats for more recent years, these percentages were generally lower. However, this may be as a result of fewer people getting married and more of a trend towards cohabitation. Interestingly in 2019, 62% of divorces were petitioned by women.
The most common reasons for divorce don't seem to change that much:
Affairs
Lack of Communication
Lack of Validation/Appreciation
Money Issues
What this does mean, is that many people find themselves middle-aged and needing to date again – a daunting prospect!
The days of meeting someone in a bar, get chatting and then going on a few dates were dwindling. So, more people both young and old have turned to Online Dating.
If you say 'Online Dating' to anyone, guaranteed there is a little internal groan – the horror of it all… There will be more than one terrible story, almost enough to put you off before you've begun. But there are safe and fun ways to approach things. There are just as many 'cute-meet' online romance stories out there…
Online Dating – Things to Know
As the saying goes, you might have to kiss a few frogs before meeting your prince. In other words, expect to have to go on many many first and second dates.
It is quite likely that you will have a few short-term relationships, before meeting someone, who genuinely could be a long-term partner. This is okay. It is all part of the process of getting to know what you like and what you want. A certain amount of time is needed to get to know a person properly, and for them to have let their guard down – so you can see the 'real' them!
The online dating process may elicit many emotions from you. In the worse case scenarios, you will have to learn to weed out the scam artists, the time-wasters and those just after one thing – you know what I mean. But even when you get to the dating stage, they might not look like their profile, be exactly the age they said, or do the job they talked about – everyone embellishes…
At times the process may well feel disheartening and relentless and not remotely romantic.
Using things like Google Image search can help you to identify if the photo and the person are real and match.
Online Dating Strategies
Many dating services offer free trials. Whilst it is a bit of a hassle to sign up for more than one service, this will allow you to see how it works and what the prospects are like. Set up a new email address to manage this process.
There is always an initial flurry of activity, as people see a 'new user'. Although it can be a bit exhausting, be organised during this time and respond to anyone who seems like a possible. A certain amount won't make it beyond an initial email. Eventually, you will narrow it down to those that you'd like to talk to on the phone.
Often larger dating sites like match.com will be easier to navigate and tend to have large membership databases, making matches easier.
More Ideas…
Ask a good friend to help you put together the profile, and ideally for them to take your photograph as well. Photos that show you doing something you love are often more natural. It is often much easier for a friend to describe you than have to write about yourself – something most of us find very difficult. Be honest in your description about how you like to spend your time.
Scrutinise any info before you take it live – make sure you have not accidentally given away any personal data, like your Car Reg, Address etc.
If you have shared a few emails, and have discussed some of the elements in each other's profiles, and there is a genuine interest – then the next good step is to talk on the telephone. Things can be very different in a call, and this might help you to reduce down any possibles to those you'd consider meeting. If you are younger or talking to someone quite young, don't be surprised if they are shocked by you wanting to talk on the phone!
First Dates
When you get to that first date stage, you will no doubt be a jumble of emotions, from happy, excited to downright terrified. This is all completely normal; chances are your date is feeling similar.
Follow these guidelines to stay safe, and to have a fun time:
Meet in a public place. Having coffee, rather than a meal etc can shorten the time and take some of the pressure of a 'date' off.
Make sure someone knows where you are and when you are due to meet your date/expect to be home. If any plans change, text your friend to update them.
It should go without saying, but don't get into your date's car and go elsewhere.
Try to smile, be friendly and give things a chance.
When to be suspicious
The old adage, if it seems too good to be true – it probably is, is a good rule to live by where online dating is concerned. Here are some other things to look out for:
Anyone approaching you with bad English, or a sob story, or who quickly turns to talk of money – these are likely scams – Beware!
People that have fairly generic responses are likely not looking at profiles or taking time to see if they have matching interests and to write something thoughtful. This is a fishing scenario – throw the net out wide and see what they can reel in…
Be very careful about excessive flattery, if you are new to the scene and vulnerable where love is concerned this can seem lovely at first. But those that are coming on very strong very fast usually want something – sex, money or otherwise.
You can expect that some people will use the service because they are lonely, and almost want many pen-pals. They may not in reality have any intention of taking things to the next level. They could also be married. It is possible they seem perfect – attentive and witty. But if you struggle after a reasonable amount of time to move from correspondence to meeting – alarm bells should ring.
Posted: 07/10/2021