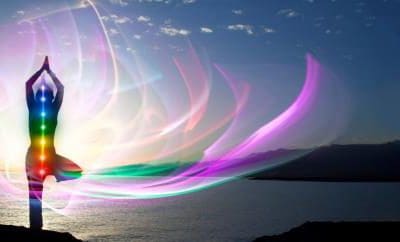 You may hear the aura being referred to by the Sanskrit title – Kosas, meaning body sheaths. Which accurately describes the layering that makes up the seven colours of the aura that work out from the body.
Chakras
The seven layers work in harmony with the seven chakras; you start with the physical body and work out from there; as you move away from the physical, the pulsing vibrations of energy fields become more subtle.
Four aura layers are fixed, the first, third, fifth and seventh; then three layers are moving, the second, fourth and sixth. As you might expect, the strength and dominance of the colours change all of the time. The layers can be impacted by the environment we are in, the thoughts we are having, the mood we are experiencing, and if we suffer changes in health.
Health
Many people become interested in auras when they feel depleted on the health front; they may be suffering from an illness, have experienced trauma, or may be trying to recover. These stresses on the body, mind and soul can leave the energy fields weak, and dark areas that represent blockages may creep in.
The good news is that there are many ways to re-balance an auric field. From eating better, reducing stress, working on negative mind chatter, bringing more balance through mindfulness and meditation, to name a few.
Aura Purpose
The different aura levels that we mentioned have a specific purpose. You start at the layer closest to the body – the etheric level; it is usually pale blue or possibly a light grey. You may see rapid movement as if a light is shining through like stars twinkling in a night sky. It represents the body's formation.
Moving to the second, as you might imagine from a moving layer – this relates to our emotions; as such, it can appear as multi-coloured, representing the fact our feelings are ever-changing.
The third layer is yellow, and it is fixed – and that makes sense as it represents the mind and the way we process thoughts – so we want it to be steady.
You might imagine that the fourth layer – the heart, would be red. But in fact, it is depicted by an almost rainbow of pastel hues.
The final three layers, the fifth, sixth and seventh, are the hardest for us to see. You understand the difficulty when you realise that they are associated with spiritual development, intuition, and connection to the Divine. They often run through various colours, from blue to silver to almost shimmering gold.
If you would like a reading with an auric element, why not try the following psychics: Adele – PIN: 3662, Ellie – PIN: 1180 and Joanna – PIN: 4567.
Posted: 19/05/2022
Related Category: Psychic