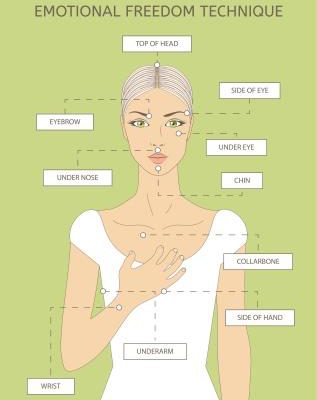 Emotional Freedom Technique or (EFT) borrows from a number of psychotherapeutic techniques – Eastern Acupressure meets Energy Meridians.
Acupuncture
Chinese Acupuncture believes there must be proper free flowing energy through the body's energy meridians. In order for people to feel as if their mind and body is working in harmony.
Any kind of trauma, illness or long-term anxiety and general unhappiness in life can cause blockages to the energy meridians. Which in turn causes disruption to the karmic balance of the mind and body.
Therapy
In many cultures a form of talking therapy may be used to thrash out the problems. Alternative therapies like acupuncture rely on a physical practise. EFT brings together two therapies, so acupressure alongside a psychology treatment such as cognitive behavioural therapy.
Tapping
The Emotional Freedom Technique is sometimes referred to as 'Tapping', or 'Tapping Technique'. The practitioner guides the patient to tap certain acupressure points whilst they are thinking about a memory or problem that is causing them anxiety. The aim is to restore the body's energy flow and balance.
Thought Field Therapy/Emotional Freedom Technique
In the 1980's Callahan developed Thought Field Therapy. TFT combined several theories and used a similar approach to kinesiology and then a particular sequence of acupressure points. Gary Craig who trained with Callahan went on to develop Emotional Freedom Technique. He felt that the sequence in which certain points were tapped was irrelevant. He identified fifteen key acupressure points. However, Gary found it wasn't necessary to tap every one of them for every problem, so the process was simplified.
The above technique was coined as 'An emotional version of acupuncture, except needles aren't necessary.'
The reason tapping is thought to work is that it stimulates something called 'Mechanoreceptors'. Essentially these are nerve endings, that are touch-sensitive. Stimulating them, seems to produce a chemical release (like endorphins). Which in turn allows a certain amount of 're-framing' of the problem in hand.
Affirmations
Clients carry out a tapping ritual on themselves, usually at the same time as saying a mantra. The mantra would be a cognitive behaviour style affirmation. The treatment has been shown to be effective for emotional problems. Such as low self-esteem and confidence issues, as well as things like insomnia. It has been used for medical conditions like asthma, migraine, high-blood pressure and so on. Not as a cure-all, but more to impact things like stress which may exacerbate these conditions or be a trigger for an attack.
If you are interested in Emotional Freedom Technique, why not have a reading with Mary, PIN: 5055, who is a qualified EFT therapist?
Posted: 28/05/2021
Related Category: Psychic Abilities