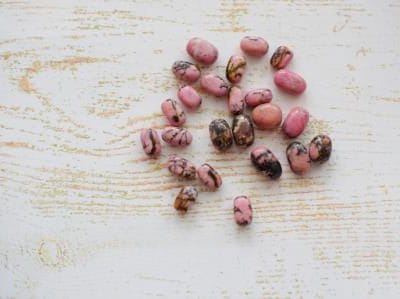 If you fancy adding to your crystal collection this summer, then you can't go far wrong with Selenite for its moon-like glow and cleansing energy, and Rhodonite for romance and rescue!
Rhodonite
Rhodonite is a rescuing stone, particularly in matters of the heart, whether relating to self-love or the romantic variety.
Historically it is thought that Rhodonite was favoured by Russian Czars, who would often include it within jewellery pieces. It is similar in hues and sentiments to Rose Quartz, but manganese brings out the pink-rose colour.
Embrace this gem when you need to remember the lessons of unconditional love, both for yourself and others. If you are struggling with whether to continue with a relationship, whether romantic or otherwise – Rhodonite can provide the answers.
As a crystal Rhodonite can balance out your emotions, it is a very cleansing and calming stone. You may find it helpful to wear the gem close to your skin. Or use it as part of meditation, chakra healing or relaxation rituals. You should feel more clarity about any decisions that need to be made and less anger towards yourself and others. Let this crystal help you to let go of any negative energy.
Selenite
Selenite is a calm crystal, that invokes feelings of peace. It assists when you are practising meditation or making contact with your Spirit Guides.
It is a beautiful white almost transparent crystal, that is quite soft and malleable. As such, it should not be cleansed in water in the way that you might other stones.
It is believed that the crystal was named for Selene, Greek Goddess of the Moon. Its pearlescent quality certainly gives it a moon-like glow, and ancients believed that crystals like Selenite waxed and waned in line with the Moon.
The high frequency that Selenite vibrates at, makes it perfect for spiritual work, such as Chakra and Aura healing and Past Life work, acting as a bridge between the spiritual and physical planes.
When you need to lift and cleanse your energy, try rubbing Selenite over your chakras before meditation. For telepathy, place the crystal on your Third Eye, so that you can more easily access dream realms and your higher intuition.
Crystal Readings At Psychic Light
Unlock the Mysteries of Crystals with Crystal Readings at Psychic Light. Many of the readers at Psychic Light find that incorporating crystals into readings offers significant advantages, helping them foster a stronger connection to the spirit world. This is particularly true during phone readings, where the energy of crystals can enhance the intuitive bond between the reader and customer. Connect with one of our readers today and discover the transformative power of crystal-enhanced psychic sessions
---
Discover the Power of Healing Crystals:
Posted: 25/06/2021
Related Category: Crystals