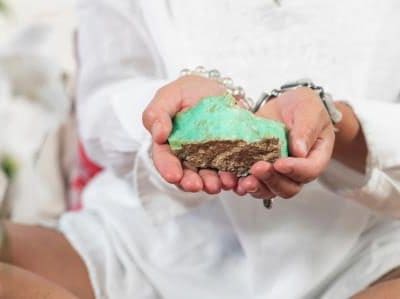 The Chrysoprase crystal is excellent to turn to when you need hope, truth, insight and to feel a connection to a higher power.
This crystal is a great all-rounder; adding it to your crystal healing routine should see you get positive outcomes in your relationships and your working life. Your creative talents should flow more quickly, and you will have a sense of just more energy about yourself.
Colour
In its raw state, the gem is a green colour, and as it gets tumbled, it can have flecks of gold and be more lemon in colour than the original apple green. It is more effective if used over extended periods. So, it may be more convenient to carry a small stone on your person or wear as a piece of jewellery.
Chrysoprase Properties
Chrysoprase is useful as an accompaniment to sacral chakra work. Used this way, you should see improvements to your overall wellbeing, more of an ability to relax, and more restful sleep.
Interestingly, connected to better sleep, this gem helps release emotional issues stemming from childhood. Particularly those that continue to induce nightmares.
Development
Psychologically, you can harness this crystal's ability to encourage compassion and forgiveness.
If you are carrying this crystal, then touching it when you feel anger rising can be a great reminder that saying whatever comes to mind may not serve you well after the fact. Better to calm down and communicate clearly at a later date.
If you are charting new territory, whether it be a job change, a new relationship or even a house move – then utilising Chrysoprase can be beneficial. It is calming and allows you to feel more open to opportunities, even if they feel a little daunting. You will be able to see more clearly the positives in moving forward instead of falling back on old ideas and behaviours that feel safe – but keep you stuck.
Heart
You can use Chrysoprase to encourage and support commitment in relationships. Don't worry, it won't dampen down any independent streak in you; instead, it will promote healthy co-dependence.
Posted: 26/05/2022
Related Category: Crystals