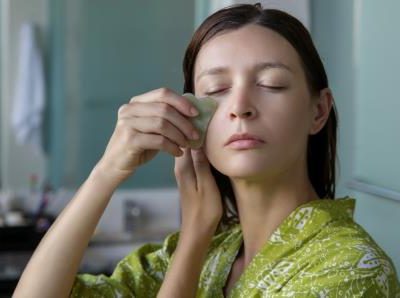 The Jade crystal is a protective gem that creates harmony and attracts friendships and good luck! Symbolically it represents serenity and purity; and love and nurturing – hence its association with the heart chakra.
Beauty
In a bit of a departure from our usual healing crystal description, we dive into a different way that Jade is utilised in the beauty world.
You may well have seen almost flat pieces of Jade – looking quite heart-shaped or even seen facial rollers with Jade as the stone. These shaped crystals have been designed for GUA SHA! You may also find similar products using a Rose Quartz crystal.
What is Gua Sha?
Gua Sha is pronounced: 'gwa-shar'. The technique is based on traditional Chinese medicine; a Jade crystal is used to massage the contours of the face and stimulate blood flow, circulation and lymphatic drainage.
Why has Gua Sha taken off in the Beauty Industry?
Promises of reducing dark under-eye circles, facial puffiness, and fine lines – might answer why it is so popular.
The technique is also often used to balance an uneven complexion and brighten the skin. Done properly and regularly, it is thought that Gua Sha supports collagen and therefore the production of elastin – something that is a real problem as we age. But, as a minimum, it relaxes tired facial muscles, making you look less tense and fresher with a glow.
More importantly, how do you Gua Sha?
You may find it helpful to watch a video – YouTube has many, but be sure to select one from someone considered an industry expert.
-You must only ever use the crystal over your face; after first applying oil. Ensuring that the tool will not drag your skin; and will glide instead.
-You can press the tool flat under each eye and then you can apply it over a closed eye – much the same as you would with a slice of cucumber.
-Around the jawline – use downward strokes; this ensures that fluid drains into the lymph glands. Be careful around the windpipe area.
-When tackling the lips, cheekbones, forehead etc. – use the tool at a 45-degree angle, and create strokes using the rounded edge.
Posted: 22/07/2022
Related Category: Crystals