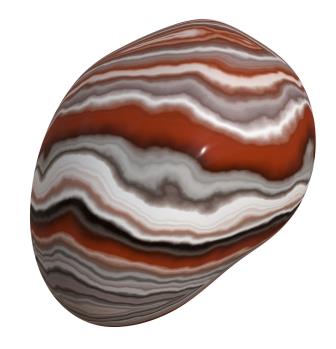 If you are thinking of adding a new crystal to your collection. Then here are a few examples of more unusual gems to consider: Sardonyx & Shattuckite.
Sardonyx
This crystal comes in various colours: Clear (Purification), Red (Inspires), Black (Reduces Negativity) and Brown (Grounding). Often a stone may have a mix of the colours and attributes.
This is a stone to turn to, when you feel in need of protection and also strength. For protection in and around your home, you may like to place the crystals in the corner of a room, or near to doors and windows.
Working with Sardonyx should make you feel like your existence and activities have true meaning. It promotes energies of honour and integrity.
The gem can also be helpful in building good fortune, especially surrounding relationships with friends. In terms of romantic partnerships, it lends stability and a state of happiness to unions.
From a health perspective, Sardonyx can increase energy, resilience, self-discipline and determination. You should have increased insights and awareness when using the crystal.
Shattuckite
If you want to enhance your psychic awareness and spiritual connection, then Shattuckite could be a great option. It aligns the third eye and throat chakra, meaning that you can understand and communicate any psychic messages you receive.
Shattuckite works at an extremely high vibration level, so it is a great facilitator of channelling. The crystal is often used in past-life work, especially where past experiences are blocking current progress. It can also be helpful in automatic writing exercises or when telepathy is needed.
The stones are often small in size, and can have a dappled appearance from light to dark turquoise. It's quite a rare gem, but speciality shops should carry them.
The crystal can also be useful when you have minor health niggles. The stone has protective qualities, but not in an overwhelming manner. It will just facilitate mind, body and soul getting back in balance.
Learn more about the healing crystals
Posted: 23/04/2021
Related Category: Crystals