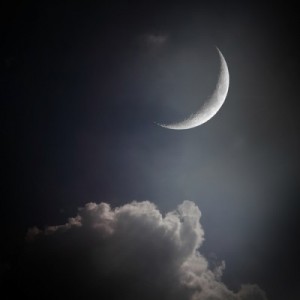 In astronomy, a Waxing Crescent is seen around 3.5 days after the New Moon. A Waxing Crescent can be identified by its letter 'D' shaped appearance in the sky. Where it is partly, but less than one-half, illuminated by direct sunlight. The illuminated fraction of the moon's surface will appear to grow in the sky. From this point until it is a fully lit Full Moon.
The appearance of the first crescent in the sky represents the first signs of change and manifestation in our life. After planting new seeds for the future during the New Moon. The Waxing Crescent Moon is a great time to embark upon whatever it is you want to manifest in your life.
Regeneration
This is a time of regeneration so use it to lay the foundations of change. Anything you do to fortify and strengthen yourself will be significantly more effective when the moon is waxing.
Initial plans and actions, starting small, are happening now. So, start gathering the resources and information you need to accomplish your goals.
Relationships
A Waxing Moon is favoured for the start of a new and long lasting romance. This is a great time to go on a first date as there is an abundance of positive energy around. Which encourages people to relax and be in good spirits. The Waxing Moon can also make people much more receptive. So, your date is more likely to be focused and attentive. The Waxing Moon can also be used for its protective and healing energy in a current relationship.
Whatever you want to attract to yourself and your path can be enhanced during this phase of the moon.
Meditation
During a Waxing Crescent Moon, the body tends absorb both good and bad energy more easily. So, bear this in mind when you incorporate lunar energy into your meditation. This is a good time to clear out any influences and energy that prove to be unsatisfying and unfulfilling in your life. Breathe in the energy of the Waxing Moon while you reflect on what you would like to receive.
Career
The Waxing Moon is the perfect time to start making big decisions about your career. If you're looking for a change of vocation, this is believed to be the ideal time to arrange an interview. Your prospects can be boosted throughout the Waxing phase of the moon. Creative inspirations are also thought to be higher at this time.
Using the moon to guide you is simple. If you want to try tuning into one of its phases look out for upcoming posts. To both observe and familiarise yourself with the Moon's cycle each and every night.
Guidance
The next time you seek guidance, our readers can use their psychic skills along with Tarot cards, crystal gazing, runes and other methods to assist them in divining your future. Our psychics are waiting for your call so get in touch today.
Working with lunar cycles is so simple. If you want to tune in to one of the moon's phases, look out for our posts to observe and familiarise yourself with the moon each and every night.
Posted: 03/04/2020
Related Category: Astrology