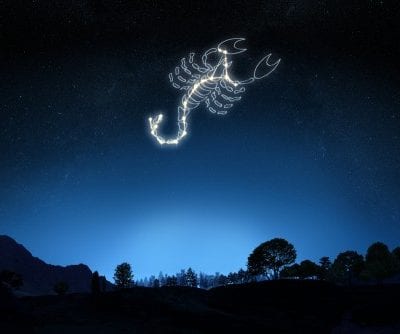 Those born between October 24th and November 22nd are born under the reputed most powerful sign of the zodiac, Scorpio. Continuing our on-going theme, we will be taking an in-depth look at the star sign, discussing its history and mythology as well as the unique traits of a Scorpio.
Basic Facts:
Your element: Water
Your ruling planet: Pluto
Symbol: The Scorpion
Your stone: Topaz
History & Mythology
The history of Scorpio is rooted in Greek mythology, which suggests that the original Scorpion was associated with the hunter Orion. Orion often threatened that he was capable of exterminating all wild beasts, however the Goddess of the earth Gaia learnt of Orion's bragging and sent a giant scorpion with impenetrable armour to punish him for his arrogance. The scorpion stung Orion to death, and at the request of Goddess Artemis, Zeus gave Orion and the Scorpion a place in the sky amongst the stars. 
Traits
Scorpios are a mysterious bunch and there is much more to them than meets the eye – they are extremely sensitive and have extraordinary emotional depths, however they are careful not to show any hurt or weakness in themselves to others. They are very observant and sharp minded and there are few things that will escape their notice. They love to be in control.
As friends, you will find if you are true to a Scorpio, you will gain an amazingly loyal and honest friend for life. Nobody needs to love or be loved like a Scorpio; however, at the same time they like their independence and are perfectly suited to being by themselves.
Scorpios are ambitious and determined, and their love of control makes them great doctors, lawyers, and leaders. They are natural problem solvers in the workplace, and are quick learners.
Like their mascots, it is hard to penetrate Scorpios protective outer layer and you may never truly get to know the real them. They are extremely secretive, and are very capable of hiding their true thoughts and opinions from others. They are often their own worst enemy and have a strong fear of failure. Scorpios struggle trusting people and if they are hurt they tend to bear grudges and they rarely forgive and forget. Scorpios are constantly trying to understand their emotions through finding a deeper purpose in life.  
Famous Scorpios
Unsurprisingly, celebrity Scorpios tend to shy away from public attention and are incredibly protective over their private lives. While they're undoubtedly dynamic performers, its unlikely you'll see notable Scorpios Leonardo DiCaprio, Anne Hathaway or Julia Roberts starring in their own reality show anytime soon!
Discover what is in store for you this month by visiting our horoscope page here. Many of our readers are especially talented in astrology and may be able to tell you more about what the future holds for all the Scorpios out there. Look out for specialist readers on the Psychic Light reader's page, and get in touch!
Posted: 24/10/2016