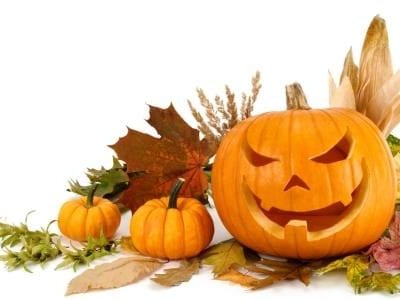 Halloween is otherwise known as Samhain, which translates as 'summer's end'. This makes sense as in Celtic tradition this period marked the end of summer considered to be the light half of the year and the beginning of winter, the dark half of the year. It was a time of feasting which has synergy with Thanksgiving festivals seen in America in November.
The Celtic festivals would concentrate on honouring those that had passed on, they believed that at the time of Samhain ghosts could walk the Earth. As such it was also a time when they were battling good versus evil, as a result of boundaries of the two worlds being at their weakest.
Halloween is both a time of celebration and superstition. The holiday, observed around the world on October 31st, has become synonymous with child-friendly traditions such as trick or treating, fancy dress parties and lighting bonfires. However, its history and traditions go back hundreds of years and it still has great significance to those who embrace its paranormal past.
All Saints' Day and All Hallows' Eve
Halloween is thought to have originated around the eighth century when Pope Gregory III designated the 1st of November as a time to honour all Saints and Martyrs, known as 'All Saints' Day'. The evening before this was named 'All Hallows Eve' when celebrations were intended to begin. However, it was traditionally believed that the souls of the dead wandered Earth until All Saints' Day, and All Hallows' Eve gave them one last chance to get vengeance on their enemies before moving onto the next world.
It was believed that people would wear masks and costumes to disguise themselves in order to avoid being recognised by a soul. This tradition has been continued on through to the modern-day, traditionally by families and children, who go trick or treating in costume.
Trick or Treating
The tradition of trick or treat is actually believed to have originated with the Christian practice of 'Soul Caking'. Children would ask villagers for cake, in return, they would pray for the souls of departed loved ones. At the time carnivals or parades would take place on All Soul's Day, and people would dress up for the occasion, it is possible that this is where the idea of costumes for Halloween first started.
Superstitions
Because Halloween is so closely linked with the paranormal, it inevitably has strong psychic importance. Psychics and those with a powerful sixth sense could see the spirits that wandered on All Hallows' Eve and practised many superstitious acts and rituals in order to protect themselves and those around them. While Halloweens popularity in the modern age grows, the real-life paranormal activity that goes along with it can be an eerie reminder of what this scary season is based upon.
Superstition has long been incorporated into the celebration of Halloween. Around the 18th Century, women would follow a number of these superstitions in order to identify their future husbands, and some are still carried out to this day.
Legend has it that if a young woman eats a concoction of walnuts, hazelnuts and nutmeg before she goes to bed on Halloween she will dream of her future husband! Hazelnuts have also been used by Scottish fortune tellers as a way to predict a future suitor. Women were told to name a hazelnut after each of their admirers and toss them into the fireplace. The nut that burned to ash instead of popping or exploding would represent the winning suitor.
Whether you believe in these superstitions or not, Halloween is a great time to turn to the supernatural to find a new relationship. Remember that good spirits can communicate with the living at this time as well, and could possibly give you the guidance and direction you need to find the love that you have been looking for.
Jack O' Lantern's
Another pastime synonymous with Halloween is carving pumpkins, but you may not be aware of the origins.
You might have heard of the tale of 'Stingy Jack', which originated in Ireland. There was a man named Jack, who carried many sins. On one night he was so drunk that his soul left his body. The devil appeared to collect the soul, but Jack begged for one last drink. Jack very cunningly got the devil to turn into a sixpence to pay for a drink for both himself and Jack. But Jack scored across on the coin and trapped the devil inside. In order to free himself the Devil agreed to leave Jack alone – but for one year only. The Devil returned a year to the day, but Jack tricked him for a second time, and in return secured to be left alone for life.
Unfortunately, on his death, God did not allow him to enter heaven and so he was doomed to walk Earth eternally. The tale goes that he begged for an ember to light his way, he placed the ember for safekeeping in a turnip. Later on, when celebrating Halloween turnips became pumpkins and they are carved with lights inside to represent the glowing ember being held safe.
Get in Touch
Psychic Light Readers are available throughout the day and evening over Halloween. Although some Halloween traditions have long lost their significance, we will continue to celebrate the rich ancient belief in the paranormal and commemoration of otherworldly phenomena.
Posted: 31/10/2018
Related Category: Spiritual Holidays