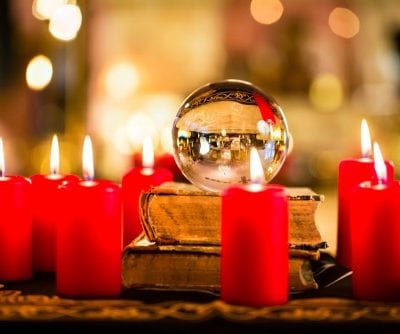 Clairvoyance is a French word that translates to 'clear vision'. Clairvoyance means using one of our senses, which we didn't know existed, hence the term 'sixth sense.' People who have the gift of the sixth sense are able to use their ability to gain knowledge of a person through telepathic means. By having the ability to delve into a person's mind, a clairvoyant psychic is able to physically see and hear vibrations that will relate to the person having a psychic reading. Clairvoyants are not only able to see images, they have the ability to see and feel spirits through their mind's eye.
Why use Clairvoyance?
If you want to learn more about your past, present, or future through a visual means, then clairvoyance is for you. A clairvoyant is able to look into your mind, and ultimately, learn more about you and what the future holds. By having the ability to do this, you as the client, are able to understand your meaning in life. Many people use clairvoyants in order to see what their future holds. People are usually curious about things they have done in the past and wonder if karma is a reason they are not happy right now. One of the most popular questions we get asked is 'will I be happy?' but happiness has a different meaning to each person. The three main reasons why people call Psychic Light are either to seek relationship advice, career advice or financial advice…
Relationship questions can come at any time through the dating process. For the majority of the time, it is when a person starts dating and is wondering if their feelings are reciprocated and if their relationship will turn into marriage or family. For others, they could be going through a rough patch in their relationship and want to know if their significant other has been cheating, or if the love has gone. Sometimes, people just want somebody to talk to and listen without being judged.
Do not hesitate to call Psychic Light if you are having negative feelings in your relationship.
Your career is likely to be a substantial part of your life. A clairvoyant will be able to guide you to understand and see your career path more clearly. Whether you are starting a new job, pushing for a promotion or simply just want a presentation to go well, Psychic Light has professional psychics to guide you in the right direction.
Finance Advice
Money is often at the heart of many stressful situations. If you want to find out about finances in your future, Psychic Light has skilled psychics who can use Tarot readings to help you to understand any influences in your life. Maybe you simply want to try something new financially in your life; Psychic Light can give you an in-depth reading about what your future path may look like. Psychic Light has many psychics who naturally have the gift of clairvoyance.
Clairvoyant Psychic Readings at Psychic Light
Many of our psychic readers have clairvoyant abilities. Unveil the hidden realms with a Clairvoyant Psychic Reading at Psychic Light. Let our gifted readers provide you with a deeper understanding of your past, present, and the myriad possibilities of your future
Contact one of our psychics today!
Posted: 16/12/2015
Related Category: Psychic Abilities