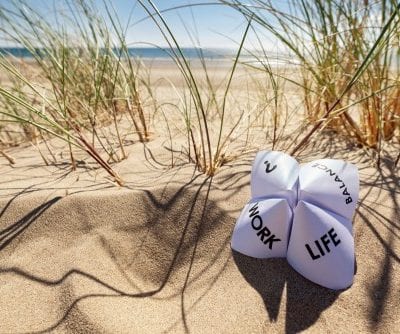 This week, UK charity Working Families is calling on everyone to get involved in National Work Life Week from 22nd – 26th September. Now in its sixth year, the week aims to highlight the benefits of employee well-being and maintaining a healthy work-life balance. Statistics show that around 12% of the UK's population work very long hours (more than 50 a week), however for many families, flexible working is not a reality.
National Work Life Week 2015 is needed more than ever. While most of us handle our work and social lives as best we can, failing to take care of our time can cause stress and lead to a range of long-term physical and mental health problems. While work is important, too much time focused on work-related matters can cause you to ignore other areas of your life which are equally important.
The Impact of An Unhealthy Work-Life Balance
For many people, this could cause relationships to break down with family and friends and they could even find they lose essential social skills. In reality, a healthy work-life balance can actually be good for business, with research showing that it helps staff become more engaged, motivated and productive at work. So how can we make sure our personal lives are in balance with our work? There are a number of things you can do to regain equilibrium… Long commutes and nights away from home can really have an impact on you and your family.
If there is an option for you to still be able to work effectively nearer home or even at home then this could be a practical alternative. If this isn't possible then you could look into cutting down your commute. If your travel time is above average (24 minutes each way) then talk to your employer about adjusting your working hours so you avoid rush hour traffic.
Empowering Work-Life Integration
A healthy work-life balance doesn't just depend on where you work, it can also be affected by when and how you work. If you feel like you are working too many additional hours, explain to your employer how this is affecting you. They should be open to discussing different options and ways they can make this better for you. You may find that just by making your employer aware of how you feel you are able to take some of the pressure off. For many of us, work demands may seem more urgent, however, it's important to remember that spending quality time with family matters most in the long run.
Today is also recognised as 'Go Home On Time Day,' one part of National Work Life Week. The day urges workers to think about the extra hours they put in for their employees and aims to encourage workers to leave the office as soon as their working day is done. A healthy work-life balance is achievable for everyone.
For more information and inspiration on how to get involved this National Work Life Week, visit http://www.workingfamilies.org.uk/campaigns/national-work-life-week-2015.
Finding Work-Life Balance Through Psychic Readings
Work-life balance is a constant pursuit for many individuals seeking harmony and fulfilment in their professional and personal lives. Psychic readings offer a unique avenue to explore this delicate equilibrium. Through intuitive guidance and deep insights, psychic readings can shed light on the underlying factors that may be causing imbalances and hindering one's ability to find harmony. Whether it's excessive work hours, unresolved stress, or conflicting priorities, a psychic reading can provide valuable perspectives and guidance to navigate these challenges.
Speak to one of our psychics today for personalised support on your journey towards achieving a harmonious work-life balance.
Posted: 23/09/2015
Related Category: Career