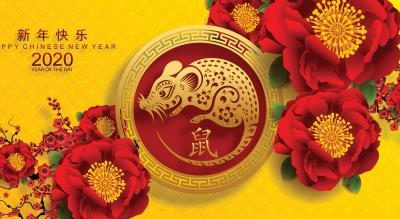 When
Chinese New Year 2020 commences on 25th January 2020, and runs until 11th February 2021.
Animal
This Chinese New Year 2020 brings in the Year of the Rat.
Rat Years
1912, 1924, 1936, 1948, 1960, 1972, 1984, 1996, 2008, 2020, 2032.
Wood
Rat
1924
1984
Proud, independent and traditional.


Fire
Rat
1936
1996
Lacks discipline, but are shrewd and clever.


Earth 
Rat
1948
2008
Highly flexible, content, more serious than usual for aRat.

Metal 
Rat
1960
2020
Subtle, complex, persuasive and self-aware.


Water 
Rat
1912
1972
Conservative, high intelligence with a lofty intellect.


Rat Characteristics
Great spirit, witty, flexible, vital, tantalising and attentive.
Rat Personalities
Those born in Rat years, are highly social and popular with everyone. They are very adaptable, and can be comfortable among many different people – making them great assets in the workplace.
People born in Rat years have great instincts, and they will rely upon them. They have inquisitive natures. They are always alert, and are quick to change direction if needed.
Strengths: Positive, cheerful, smart, easy-going, watchful and genial.
Weaknesses: Stubbornness, fussy, lacking in tenacity, can be critical.
Chinese New Year 2020 Love Matches
Chinese New Year 2020, love matches for Rat signs are as follows:
Marriage Material: Ox – there will be passion. Dragon – loyalty and faithfulness. Monkey – harmonious ideals.
Should Just Be Friends: Snake – great listeners.
Matches to Avoid: Horse – both want what they want, no compromising middle ground. Rooster – too quick to state each other's faults. Sheep – too different in life, with opposing upbringings.
Celebrate
We have previously written about The Year of the Pig. If you are not a Rat year, you might have been born in a Pig year.
Chinese New Year will also bring with it the Lantern Festival.
Posted: 23/01/2020