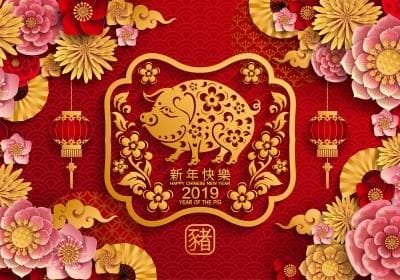 Chinese New Year – Spring Festival
This Chinese New Year 2019 brings with it the Year of the Pig. Commencing on 5th February 2019, and going up to 19th February 2020.
The original name for Chinese New Year was Yuán Dàn, which meant 'the beginning'. This date marks the beginning of the solar (Gregorian) calendar, and is now often referred to as the Spring Festival or Chunjie. The whole period celebrates harvests and planting of crops, fresh starts and new beginnings.
In much the same way that we let off fireworks on New Year's Eve, Chinese New Year commences with fire crackers, and a day of greetings and blessings, to family, friends and neighbours. The fire crackers serve a dual purpose, of warding off bad luck and scaring monsters, as well as welcoming in the New Year and introducing good luck and fortune.
It is traditional for predictions to be made for the year ahead, using a mixture of weather patterns as well as analysing the moon and stars, in a practise called 'zhàn suì'.
The Chinese New Year celebrations close on the 19th February, with a finale called the 'Lantern Festival', this is a very sociable holiday and celebrates freedom, and reunions. Lanterns were originally dedicated to the 'heavenly place', nowadays they represent happiness, success and hope and they also signify 'wishes'.
New Year Superstitions
As you might expect the Chinese New Year has many rituals, many of which are connected to religion. But there are also many things that people will not do at this time, that are more easily categorised as superstitions:
Harmful phrases and negative connotations are forbidden, for example: sick, empty, ghost, kill etc.
Breaking things like glassware or ceramics is bad at this time, anything that is broken would be wrapped in red paper, whilst favourable words are spoken. Only once the New Year is over, can the broken items be discarded – rather unsafely in their wrapped state into a lake or river!
Cleaning should take place prior to Spring Festival, which literally sweeps bad luck away. Sweeping and cleaning should not take place during the festival.
Using scissors, knives or other sharp objects should be avoided during the festival period, as it can literally 'cut' your wealth or stream of success.
Whilst giving gifts may be customary during this period, gifting a clock is a very bad idea, as it is associated with paying one's last respects.
Year of the Pig
If you were born in one of the following years, then you were born in years of the pig: 1935, 1947, 1959, 1971, 1983, 1995, 2007, 2019. The Pig is the twelfth animal in the zodiac. Pigs are the sign of wealth! Their features – chubby faces and big ears, are associated with fortune. They are Yin, as opposed to Yang and are connected to the hours of 9pm-11pm, and the Earthy branch.
Personality Traits of those born in Pig years
They are realists.
Flying under the radar, but they are action takers – not all talk and no do!
Enjoying life, and they will spend money to do it.
Working hard, and they like to see their labour in the form of possessions.
They can be taken for being materialistic, but really holding and seeing things they have been able to work for and pay for gives them a sense of security.
Recognising people in positions of authority as having the right to speak and make decisions. So, given the chance they will rise to being in positions of power and will enjoy the status that brings.
Energetic and enthusiastic.
Happy to tackle even the most boring of tasks, still applying their energy.
Compatibility
There are distinct differences between men and women born in pig years.
Men – positive traits: Focused, gentle, optimistic, quiet and cool headed. Treating others warmly. They often have large social circles. They will help others who are facing difficulties.
Men – negative traits: Not great with money, can be gullible and are easily lied too/taken for a ride by others. They like to learn, but have trouble with conversation.
Women – positive traits: Genuine, trustworthy, organised and blessed with good fortune and wealth. They are excited by life, they are social and easy-going. They work hard, and this keeps bringing money in.
Women – negative traits: They need to ensure that their efforts are not wasted, and that they keep at tasks and see them to fruition. They can be overly friendly, and this can result in others feeling smothered and lacking in space.
The Best Signs
Pigs signs are most compatible with Tiger signs, as Tigers provide the security needed. The Rabbit could also work – this sign is attracted to Pig's warmth and intelligence. And there is much common ground with Goat signs, so a harmonious relationship could be achieved.
The Worst Signs
Other Pigs and Snake signs are the least compatible, whilst they say opposites attract, in the case of these animals there are just too many personality differences. Followed closely by the Monkey, where there is just too much tension and an unwillingness to compromise to make a lasting relationship work.
More Information
If you are interested in learning more about your zodiac character traits. Why not speak to one of the Psychic Readers that specialise in astrology? You can delve into the star signs in more detail. Or look up your zodiac compatibility with other horoscope signs.
Posted: 01/02/2019