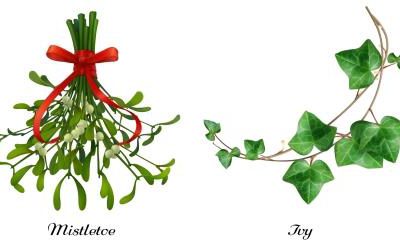 Did you know it is considered bad luck to send a letter to your beloved on Christmas Day?
Well, here are some other seasonal superstitions associated with the festive season and the start of a new year…
Christmas Superstitions
Holly & Ivy
You might associate holly & ivy with Christmas, but in fact whilst holly is generally considered a lucky plant, it should only be brought into the house at Christmastime. Generally, not before Christmas Eve, and both prickly and smooth types should be used to ensure a good future year. Some people never make an exception for Ivy, due to its associations with old buildings, graveyards and churches. Greenery was often kept and burned on Shrove Tuesday; alternatives were to feed it to cattle!
Mistletoe
Mistletoe is also associated with fertility, and is considered to be an aphrodisiac! Kissing under the mistletoe has long been associated with love, especially at Christmastime, when it was thought to increase your prospect of love and marriage in the coming year.
Frankincense and Myrrh
Of course, you will have heard of frankincense and myrrh as a result of the Three Wise Men, but many also burn these aromatics to provide spirits a period of peace and rest.
Decorations
We might use oranges studded with cloves as a fragrant decoration during the festive season. They actually originated from the Middle Ages when wealthy folk would wear pomanders (often made of herbs and spices). In order to ward off diseases and generally unsanitary conditions/contaminated air in towns and cities.
Calendar
If you are gifted a calendar for Christmas, it is better to wait until the New Year to hang it up. New Year's Day is seen as the best day to avoid rotten luck for a year!
Mince Pies
There was once a tradition of eating 12 mince pies, during the 12 days of Christmas. Each one is to be consumed in a different house. The ritual would bring you good luck for the next 12 months. The first mince pie was extra special, as a wish could be made during your first bite!
Fire
It was tradition for a fire to be lit, and not burn out the whole of Christmas Eve. In an ideal world, there would be some logs left over, and one of these would be stored, and used to light next year's Christmas Eve fire. Thereby protecting the house from unwanted fire blazes for the year.
Love
Love spells were common during the Christmas period. One such ritual would have a lady walk backwards to a pear tree and then circle it three times. So, say, she would then see the spirit of her future husband!
One for the New Year
Seasonal superstitions are for the New Year as well…
The New Year has many customs too, a lot of which involve something coming into the house before something left on New Year's Day. Often these superstitions were tied to increasing financial prosperity in the new year.
Posted: 13/12/2019
Related Category: Lifestyle