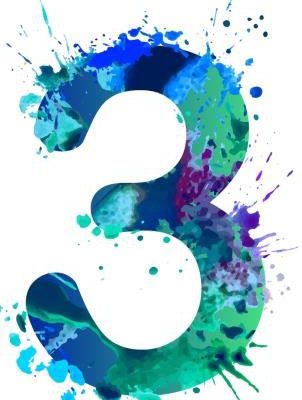 To refer back to our introductions and numbers one and two – please visit our blog and search for Numerology in the category drop down.
Three
In Numerology, those that calculate as a number three have a great sense of humour. They are well-liked by others, are lively and look forward to new adventures in life. Number threes take on challenges as they arise, and they like to look ahead; mundane tasks and just generally keeping routines and things the same bores them. 
From a zodiac perspective, three relates to Jupiter and the astrological sign Sagittarius.
Heart Number
You might describe threes as extroverted, sociable and positive characters. They are natural optimists, and their enthusiasm pours onto others. They actively support and encourage family and friends. Being accepted by those they love is important; although others may not realise it as threes always appear confident and well-balanced. 
Threes can be worried about not finding a life partner and being lonely. However, they have a wanderlust heart and a need to mix things up, especially with travel. Which can make finding an ideal partner tricky. Also, threes may not always be faithful!
Expression Number
Numerology three is connected to Sagittarius; however, they often display Leo tendencies. They are great company, and so people naturally flock to them. Being the centre of attention is what a three craves – they will exhibit quite a bit of flair and drama. 
On occasion, you might even accuse a three of being a bit arrogant or even showing bravado. But this would be false-bravado, as underneath it all, they can be acting a bit for show.
Personality Number
Number threes; do seem to have a lot of lady luck on their side. To outsiders, it may seem that they are living a charmed life. However, much of their success is down to their positive attitude on life. Their sunny personalities certainly help them to succeed at work, as does their willingness to be flexible and make regular changes. Threes also seem to communicate well. Which keeps their relationships on an even keel and means loved ones are drawn back to them time and again.
Posted: 01/04/2022