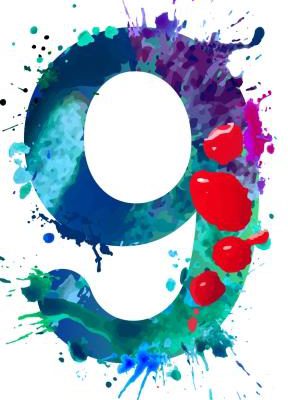 In numerology terms, number nine is associated with drive, motivation and energy. Those that calculate as a nine are usually very spiritual. Astrologically speaking, they are connected to the planet Mars and the star signs Aries and Scorpio.
Heart Number
Number nines are curious about anything; and everything – some might even call them nosy! They don't always appreciate other people's boundaries, and their inquisitiveness can get them into trouble with family and friends.
Very often, nines are flirtatious – they make good company as they are interesting and come with many stories of their adventures. Until nine's are ready to settle down – if ever, they may not be faithful! A long-term relationship will work if they find a partner that is prepared to allow them independence and emotional freedom. When nine's eventually settle down, they are loyal and considerate of their partners.
Expression Number
At times, a nine can view the world in a romanticised way, which may need to be tempered; if they are to explore safely. People may find them changeable at times, but really it is just their restless energy seeking variety in life and their journey.
You probably wouldn't describe a nine as tactful – as they tend to say whatever is on their minds. However, they are kind and compassionate and liked by many for their charitability.
Personality Number
Interestingly for someone hard on themselves on deadlines and achievements, they are terrible at general time-keeping and arriving somewhere at an agreed hour.
Number nine's set their timetable and get frustrated if they don't get the results, they want or need in the timeframe (usually quickly); or if others do not keep up with their pace. They are not known for their patience, but nines have lofty ambitions and work hard to achieve them.
Having said that, if someone is in crisis – family, a partner, a friend or a work colleague – they will stop everything and offer support. 
*Why not catch up and read our introduction to Numerology (including how to calculate your number)? You can review numbers one to eight on our blog.
Posted: 14/10/2022
Related Category: Numerology