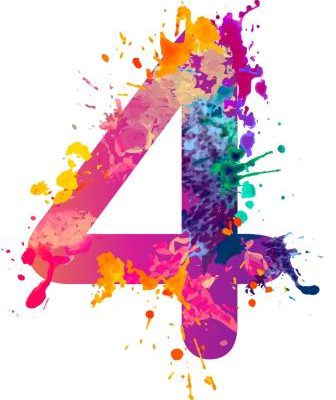 Astrologically speaking, number four relates to Capricorn and Saturn – they bring stability and practicality.
People might describe them as grounded, and they are proud to apply a logical and real-world approach in day-to-day life.
Change is not always easy for a four, and as such, they may stick to what they know – which can land them in a rut now and again. However, fours are ambitious and will pursue goals that are important to them.
Heart Number
A number four is the ultimate provider, making them great family people. Their trustworthiness and dependability make them sought after life partners. When they feel safe and loved at home, they can relax.
It's crucial that fours couple up with compatible numbers. For example, a four is often shy and unassuming. They don't want too much spotlight on them; attention of any sort makes them uncomfortable. 
Expression Number
As you might expect from someone well organised and practical, fours like routine and order. It is easy for those flightier to consider them stuffy, conventional or even narrow-minded. But really, it is part of the way they stay reliable. 
Fours do struggle when they encounter someone in life who is a bit of a rule-breaker and not very interested in the order of things. They are very puzzled by their attitudes and wonder what their next move will be.
Personality Number
Number fours are probably their own worst critic; they hold themselves to the highest standard. They are comforted by stability and the habitual patterns of life, so when a crisis is upon them, it can create a lot of stress.
Friends, family and significant others love that they always know where they stand with a four. However, on occasion, they can be frustrated by their lack of willingness to throw caution to the wind, break a minor rule, or just have fun!
Four
To refer back to any of our articles on this Numerology topic, please visit our blog: www.psychiclight.com/category/numerology/
Posted: 06/05/2022
Related Category: Numerology