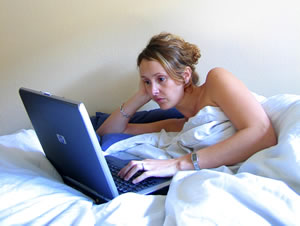 Millions of us are now turning away from traditional dating methods and are now looking for love online. With advances in modern technology and dating sites more popular than ever it seems as though finding love has never been easier!
It seems that looking for a partner online is now the 'in thing,' and many busy singletons have found long term love through social media. With Valentines Day just around the corner, being single can feel like a lonely and undesirable time, however love could be just around the corner for you, and there is no reason not to make February the month you find your dream partner.
Online Dating
Finding love online is a fairly new phenomenon and can be a daunting prospect if you are a first time user, however many people have found it a successful and easy way to get to know somebody new. Celebrities such as Joan Rivers and Halle Berry have admitted to creating profiles on online dating sites in order to find the one, proving that even A-List stars have the same relationship worries and troubles as we do. TV presenter Sarah Beeny set up her own dating site 'my single friend' in 2007 which encouraged users to suggest their single friends as ideal dates on the site.
The site aimed to take out the embarrassment factor out of online dating, stating that it eliminated the 'cringe factor of describing yourself to potential paramours' and has proved an extremely successful concept. Celebs have also been known to use their own websites in order to advertise themselves as ideal dates. Sinead O'Connor famously wed her unknown boyfriend Barry Herridge in Vegas in December last year after he sent her a number of emails in reply to her blog, which asked potential suitors to apply to her post online.
Many celebs have also admitted to using their Facebook and Twitter accounts to flirt and find potential partners. Orlando Bloom and Gossip Girl star Chace Crawford have both used social networking as a way to anonymously search for love. Using social media sites is a great way to meet friends of friends or get to know someone better, and can be a lot easier and quicker than traditional dating, allowing you to check out your potential partner's interests, hobbies and lifestyle before you take the plunge to meet them which can help avoid the dreaded bad date.
If you don't feel brave enough to use the internet to look for somebody new, many people use texting and emailing a great way to get to know somebody they already know better. Asking for someone's number or email address could be the first step to discovering your dream partner, and while you may feel anxious or apprehensive about making the first move, the results may prove extremely worthwhile.
Psychic Readings For Love and Relationships
Love and relationships are one of the main reasons that people contact Psychic Light as people seek intuitive readings from our highly-skilled psychics and mediums. Whatever your concerns are regarding love and relationships, consider calling one of our available readers who will help to guide you to a brighter future without judgement.
Posted: 13/02/2012
Related Category: Relationships