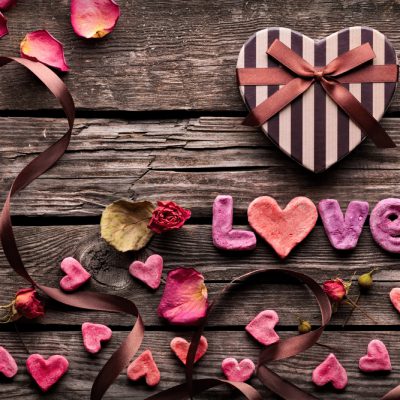 Valentine's Day History
Have ever wondered where Valentine's tradition first started? Modern society would have us believe that Valentine's Day is all about chocolate and flowers. As well as sharing the day with a partner. But really the day began as an ancient Roman fertility festival called Lupercalia!
The festival lasted from the 13th-15th of February and was intended to celebrate early spring, love & fertility, and their ancestors. Priests would sacrifice a goat on the day and proceed to go around the perimeter of Rome; tapping women with strips of the goat's blood-soaked skin. This was seen as a great honour. As the ritual invited the spirits of their ancestors to re-incarnate through the cycle of rebirth and ensure fertility.
At the end of the day all of the single girls would write down their names and put them into an urn. The bachelors would then pick out a name and spend the year with the girl that he had chosen. This was to ensure fertility for their community.
Legends
However, legend has it that the actual St Valentine was a priest who served in 3rd century Rome. At the time Emperor Claudius II had decided that single men made for better soldiers. As they were not tied down to a wife or family. So he outlawed marriage for all young men in the hope of a stronger military. St Valentine took pity on these people and began marrying them in secret. However, when Claudius found out he sent Valentine to jail, executing him on February 14th.
Before his death, Valentine sent the first 'Valentine's Card' to the jailor's daughter. Whom he had fallen in love with during his time in prison. He signed the card 'Your Valentine' words which are still used in modern-day cards. Since then people have continued to write love notes and send cards to show their affection. Which has come to develop into what we know today as Valentine's Day. In modern times new traditions have also been created. Such as going away on holiday, going out for meals and exchanging gifts with our loved ones.
How to Celebrate Valentine's Day
Depending on your romantic situation, Valentine's Day can be a day you look forward to. Or you may be dreading it, perhaps, counting down the minutes until the day is over!
Whether you are married, divorced, single or at the early stages of a relationship. Here's how you can make the most of this historic day…
Married
Over the years you will have shared numerous Valentine's Days together. You may be running out of ideas on how to surprise your spouse. Or perhaps even reignite that romantic spark you had when you first met. Valentine's Day does not have to be expensive. Sometimes the most thoughtful gifts are the ones that are remembered for years to come. Take some of these tips on board to make this day special for you and your spouse.
If you have children, ask a babysitter to look after your kids so you are able to spend some quality time together with no distractions. Something as simple as going to the cinema, enjoying a meal or going for a drink will allow you both to spend time together as a couple. Why not allow your significant other to spend the night relaxing while you cook them their favourite meal? If you wish to surprise them, put on the first movie you both watched together when you first met.
In a relationship
Regardless of whether this is your first, second or seventh Valentine's Day together, use this opportunity to show your significant other how much you love them. This doesn't mean you have to take them out to an expensive restaurant, lavish them with gifts or splurge on a trip abroad; you can express your love in many other ways…
Show your significant other you see a future with them by writing future plans on twelve roses. Plans could include a weekend getaway, going to the theatre or cooking them their favourite meal!
If you are the type of couple that prefers the outdoors, go and explore a new city in the UK. If the weather is nice, you can pack a picnic and spend the day discovering new and exciting attractions.
Single
If you are newly single, going through a divorce or have been seeking love for a long time, Valentine's Day may seem insignificant to you, or even a day to dread. Instead of focusing on the negatives, fill this day with love and keep busy with these tips:
Choose to spend the day acknowledging great friendships rather than relationships. You can book into a spa, go on a weekend break or simply enjoy each other's company over a meal! Embrace single life by heading to a bar with either your friends or family. Have a catch-up, share a few laughs and enjoy each other's company instead of spending the night by yourself. You never know who you might meet!
Valentine's Day on a Budget
If you are still feeling the pinch from Christmas and New Year, then read on for some tips and tricks on how to have a happy and memorable Valentine's Day on a budget!
Save coupons
Restaurants know that lots of couples will be wanting to eat out on the 14th of February, which means competition is high! Restaurants often send out coupons to stop their customers from going elsewhere so check online or sign up to offers via email to take advantage.
Eat-in
Instead of being tempted to go out for a fancy meal on Valentine's Day, why not stay in and cook dinner together. This will still allow you to spend quality time together but will also save you significant amounts of money.
Think about your gift
Valentine's Day is often associated with the giving and receiving of presents, so if you're set on buying a gift, get your significant other a present you know they really need or want. This will ensure you don't waste your money and the present will be appreciated. To save even more, why not make your gifts this year! If you're stuck, have a look on websites such as Pinterest or Etsy for inspiration.
Make a treasure hunt
If you want to make this Valentine's Day memorable and fun, then a treasure hunt is a great way to spend February 14th. By placing clues around the house, your significant other will have to search until they receive their present. They will also appreciate the thought and effort you have put into making the day special.
Watch a film
On Valentine's Day, you can guarantee the cinema will be extremely busy, and tickets aren't cheap! Instead of spending £20+ at the cinema, you can watch films on your TV and with the savings order a takeaway and a bottle of wine.
Valentine's Day Psychic Reading
If the build-up to Valentine's Day has got you wondering about your love life then why don't you consult the Tarot? Tarot Readings are most commonly used to understand a person's current situation and what events they can expect to encounter in the future.
You may want to use a Tarot Reading to find out where your relationship is heading, or what the year holds for you in love.
Future love
The Tarot is without a doubt the most powerful tool we can use to predict when love will arrive. A one-card reading could offer insight into the future of your love life or even reveal telling details about a potential love connection. Luckily for you, our professional psychics are experienced in this area and know which questions to ask.
Relationship
A Tarot Reading is also a great tool for giving a fresh perspective on issues in a current relationship. Perhaps you want reassurance that you and your partner are on the right path or simply want to prepare for any challenges that may lie ahead. If you and your partner find yourselves on a rockier road this Valentine's Day, the cards may be able to disclose your partner's true feelings towards you or reveal their doubts and fears about the relationship.
Break up
Perhaps you're worried that your relationship may be falling apart or are struggling to face up to a pending divorce or break up. A Tarot Reading may give you the assurance and support you need to make a decision. The cards can reveal a whole host of information including how your partner views you, their present concerns, and the future of your relationship. Disclosing your partner's feelings towards you may allow you to gain insight into your relationship and develop a better understanding of where you are headed.
Get in Touch
Whether you have a romantic person to share Valentine's Day with or not, be sure to celebrate the love you are lucky enough to have in your life. Valentine's Day is a great time to reflect on your love life and Psychic Light have a wide range of Psychic Readers who specialise in the Tarot as well as love and relationships, so there has never been a better time to get in touch.
Posted: 14/02/2019
Related Category: Love