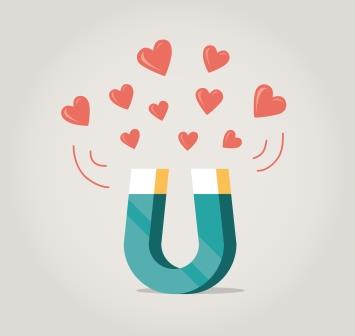 Do you believe in luck? Do you believe in magic? Well, Roman philosopher Seneca, said "luck is when opportunity meets preparation." So, maybe, with a little bit of work behind the scenes, you will uncover exactly what you want and need from a partner. Making it easy to recognise, when you bump into your potential ideal match!
Follow these 5 easy steps, and manifest your dream partner:
Partner Wants
Have a good think about what you want from a relationship. I don't mean, height, age, job etc. I mean what characteristics and qualities are your looking for in a person.
The reason this is important, is that it is easy to dismiss people based on preconceived ideas of what a relationship should look like. Of course, attraction is important, but for a lasting relationship it is helpful to have similar sensibilities and life goals/dreams.
When you are clear about what you really need from a partnership, you may be much more open to people that you meet, and aware when they match up to your expectations.
Finding Love
Finding love is never easy, if firstly you don't love yourself, and secondly if you project a persona to new people that you meet – that isn't really the true you.
Try working on any underlying issues, and be a little bit kinder to yourself and any perceived flaws. Then when you meet new people, just be you! Its likely that you will be less defensive, more approachable and easier to connect with. Finding someone that can love you, imperfections and all is so important.
Live Life to the Full
Living life to the full every day is very key; you don't want to put things on hold while you meet your dream mate. People that are passionate about their work, family, hobbies and more are very attractive to others. Try things that really make you feel alive…
Be Kind
There is another saying, 'treat others as you would like to be treated', check-in with yourself, and see if you are offering compassion and kindness to both yourself and others.
People that are spiritually aware, and mindfully approach relationships with care, are highly appealing to others.
Gratitude
On a daily basis making a mental note of things that you are grateful for. This can really get you in-tune with your mind, body and soul. Preparing you for romance and love.
Acknowledging that you appreciate the people in your life, the small things that bring you joy. The marvel that is your body and mind. Your sense of humour, your passion and ability to get through – it all counts.
Hopefully all of the above steps, will make you very aware of your own values and the qualities you really need in a partner – with a minds-eye picture of your potential soul-mate, you may just manifest your ideal romance!
About Psychic Lights
Our psychic readers are very open, friendly and insightful people. Pick up the phone and call one today if you need answers to life's questions. Alternatively, we also offer psychic readings via emails. With the insights you have gained you can make the best decisions for you moving forward.
Posted: 22/04/2020
Related Category: Love