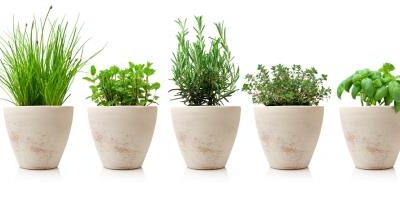 Buying herbs for cooking can be an expensive business, and often the delicate flavour can be ruined by the chilled temperatures they are kept at in supermarkets.
Whether you are not much of a gardener, or literally only have a windowsill available. Herbs can be great things to grow for colour, flowers, attracting wildlife and for culinary or medicinal purposes.
Two easy Herbs to grow:
Rosemary – You can buy a small plant from the garden centre, making it a great starter option. It is a Mediterranean herb, and as such likes a sunny position. It will need plenty of water in the drier months (especially if in pots), but keep it in well-drained soil – so that it doesn't become water logged. You will be able to harvest sprigs all year round, try to cut and maintain a shape as you go. You can also dry the needles for later use. Down the line you can grown more plants from cuttings.
Mint – Mint is almost fool proof, but be warned it can get out of control. As such, it is best grown in pots. Again, you can buy small plants from the garden centre. You will find many different flavours, from apple to spearmint, even chocolate. If you want different varieties – it is best to plant them away from each other, otherwise the flavours will likely merge. Some will be better for cooking, others just for fragrance in the garden! This herb also likes plenty of water. You can harvest the leaves from late spring through to mid-autumn. Then the plant will start dying back to ground level for winter – but don't worry it will reappear next spring.
Economical Herbs, that Come Again:
Three herbs that you could consider, that come back each year are Chives, Fennel and Sorrel. Each of these are best grown from seed, rather than from starter plants. Chives, much the same as mint will spread if allowed – so is better planted in pots. The others can go into the ground. If you don't like the taste of fennel (aniseed), it can still be worth growing as it has a lovely yellow flower and pollinating insects favour the plant. Sorrel offers a low maintenance option with a lighter lemon-like flavour. It needs water, but will tolerate shade more than other herbs. Cut to the ground when it starts to looks tired, and it will get new foliage. Chives are pretty low maintenance and they will naturally die back in late autumn. Clear away debris and thin out any clumps.
A Herb that requires a bit of extra work:
Basil is one of the most common herbs that we buy in the supermarket for cooking at home. So, its natural that we'd like to grow it – but its Mediterranean roots make it a tricky proposition. It is best grown from seed, started inside from February to mid-summer (sowing & germinating/propagating as you need). Basil should only be planted outside once the danger of all frosts has passed. Well-drained soil is a must, and it grows best in a sunny sheltered spot. If you grow in pots, you may have to keep sizing up as the roots start to show through the holes. Wet roots are the worst thing for this plant. To keep it in tip-top health and encourage bushy plants, you will need to remove any flowers and pinch out the tips regularly.
Posted: 05/05/2021
Related Category: Lifestyle