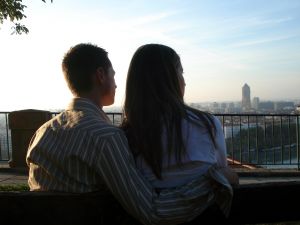 In the current climate, dating may not be top on your list of priorities; however, even when money is tight dating can still be fun and exciting! We are all still recovering from the recession however you don't need to break the bank to impress someone, and coming up with imaginative and new ways to date shows you can be creative and unique. Psychic Light has put together a few 'cheap date' ideas that you can try out, allowing you to have a great time without spending a penny!
1.Walks –
When the weather is good in Britain it can be the most scenic and beautiful country in the world! Explore your local area with your date, walks in the park, seaside or countryside or even around the town can be a great way to get to know each other without spending a thing.
2. Picnic –
Picnics are a great alternative to going out for lunch, as they allow you to keep to a low budget when it comes to buying food and drink. You can make the picnic as romantic as you like, and you could even surprise your date by planning the day out in advance.
3. Lunch –
If your date suggests going out for dinner and you fear you may not be able to afford it then suggest going for coffee or drinks instead. You can feel as though you're still in the same environment but you won't be picking up such a large bill.
4. Staying in –
Dates such as going to the cinema and eating out can start to build up. Don't try and impress your date by spending money that you don't have. Renting a film costs half as much as the cinema. Pick a film you know your date will like and they'll thank you for the thought and effort you have put in. Remember they may appreciate staying in just as much as going out, and they will probably be tight on money as well. Putting in the extra effort by cooking your date a meal can be inexpensive and just as delicious. Add in some candles and music and you have the perfect romantic date!
5. Explore your local area –
Check out things that are free to do in your local area online. Museums and parks usually have free admission, and if you live near a city a lot of local bands will frequently put on free shows that you could go and see. Have a look on voucher sites such as Groupon, as they regularly update the site with discounts and vouchers for local attractions. You can find discounted admission for things like theme parks, zoos, and sports games, as well as romantic getaways and meals. The site is updated every day so make sure you keep checking!
6. Play sports –
If you are both active and enjoy keeping fit then playing sports together can be a great way to have fun and get to know each other. Going for a run, taking a class or going swimming can get you both feeling great. Exercise releases a certain chemical that gets you burning calories as well as bringing out your positive energy!
Finally, remember that for a date to be successful you don't have to spend large amounts of money. Your date is out with you because they want you to spend quality time together, not for fancy meals or extravagant gestures. A little creative thought and imagination can make a great date as well as leave you with a little extra money in your pocket!
Psychic Light
If you're struggling to keep the spark in your relationship and feel you're stuck in a rut, a psychic reading can give you powerful new insights into your relationship. Our readers are available for a relationship psychic reading whenever you feel ready.
Posted: 18/04/2012
Related Category: Finance