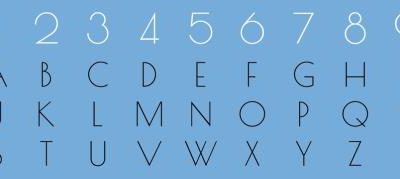 Now that you've read about the magic of numbers, that is our: Introduction to Numerology. We take an in-depth look at how to take your name and calculate the different numbers.
Which name to use
There are different thought processes for calculating a name. Some say it should be your full name, including any middle names. Some say you can work out your given name – first & surname, and then your married name (if applicable). Others think you should calculate the name that you use. For example: if your given first name was Jennifer, but; you always go by Jenny, then calculate the latter. So, I think this is a personal choice based on what resonates most with you.
Numbers
We are going to use the image attached to this article, that charts the numbers/letters. However, we are going to separate the vowels and consonants.
Take a blank piece of paper.
Write your name, and then put the numbers above and below. Depending on whether the letter is a vowel or consonant. *Some numerologists treat Y as a vowel for this purpose – you can decide.
Example 
Vowels: 1 6 5
Name: C A T H Y J O N E S
Consonants: 3 2 8 7 1 5 1
1st Calculation – Heart Number 
To get your Heart Number, add the top line of vowels. So, from the example:
1 + 6 + 5 = 12, then 1 + 2 = 3
2nd Calculation – Expression Number
To achieve your Expression Number, add the bottom line of consonants. So:
3 + 2 + 8 + 7 + 1 + 5 + 1 = 27, then 2 + 7 = 9
3rd Calculation – Personality Number
To arrive at your Personality Number, you add the two above numbers (Heart & Expression) together.
So, 3 + 9 = 12, then 1 +2 = 3.
*Don't forget that if any of your calculations arrive at an 11 or 22 – do not try to reduce them further – keep them as Master Numbers.
Next Month
The chances are you will have different numbers for the above categories. Each month we will explore a different number, and throughout 2022 – you can become an expert in the Numerology behind your name. Keep coming back to the blog for the latest in the series.
Ref: The Fortune-Tellers Bible, Jane Struthers
Posted: 10/01/2022
Related Category: Numerology