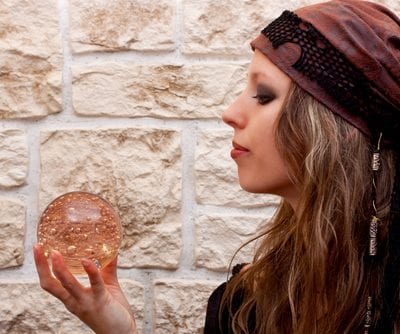 Did you know that there is a day set aside each year to celebrate all things psychic? This year, Sunday 2nd August 2015 was recognised as National Psychic Day, kicking off a week of celebrations, which take place every year during the first week in August.
History and origins…
It is believed that the origin of Psychic Day dates back to 1965. Reports suggest that well-known Broadway Press Agent Richard. R. Falk dreamed up the holiday as a PR stunt in order to promote a number of celebrity psychics who he managed at the time. It remains unknown whether the stunt improved business for Falk and his clients, but the legacy of National Psychic Day still remains, reminding us to celebrate psychics and psychic abilities each and every year. So how are you going to acknowledge National Psychic Week? If you're stuck for inspiration, don't worry as we bring you some of our top ideas!
Call your favourite psychic!
One of the simplest ways to celebrate this week is to talk to a psychic! Do you have a particularly strong connection with a certain psychic? Maybe you have a reader in mind whom you'd like to get back in touch with. Many of our psychics are available 24/7 so why not call upon them for spiritual guidance? You could even use this week to reach out to a new psychic that you have not spoken to before. Who knows…you may just come across a wonderful reader that you'll return to time after time.
Hone your own  psychic abilities
Another way you can celebrate Psychic Week is to embrace your own intuition and psychic abilities. Many people believe that everyone is born with certain psychic abilities but only a select few learn to understand or train them. There are a number of ways you can practise developing your gift, but one of the first steps you need to take is to accept your natural ESP and acknowledge that it does in fact exist.
It will take time for your conscious and subconscious to connect and communicate effectively so remember to be patient as you practise. There are a number of different methods of divination, so why not consult our blog to learn a bit about each of them and read our top tips on how you can develop your own abilities.
Psychic Readings At Psychic Light
Let National Psychic Week serve as a reminder that psychics are just like everyone else. Many are experienced professionals who have dedicated a number of years to providing a valuable and intuitive service to others. Whatever the reasons for celebrating National Psychic Week, you can rest assured that Psychic Light have a psychic reader who is a perfect match for you.
We believe we offer the very best in telephone psychic readings, and aim for you to come away from your reading feeling inspired, uplifted and with clarity on your future direction. We look forward to hearing from you!
Posted: 05/08/2015
Related Category: Psychic News