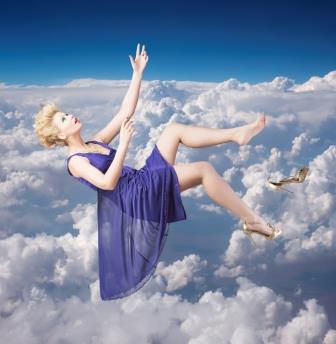 Did you know that there are some common dreams that people have? Flying, being chased, searching for something, being naked in public – to name a few…
To start our dream series, we are going to take an in-depth look into 'falling dreams'.
Have you ever been in a dream state and then suddenly experienced the sensation of falling? I think most people have – and today we will look at why it happens and what it means.
Different Falling Dreams
So, in 'falling' dreams – you may experience a sensation of falling (as described above), but equally, you may see yourself in the dream actually take a tumble. Perhaps your legs literally give out from under you. Or maybe you trip over a curb, or it could be; you fall from a great height. Whatever the scenario, the chances are you didn't see the fall coming, and there was nothing you could do at the moment to prevent the fall, stop it from happening or in any way impact the outcome!
Dream Meaning
Falling dreams can mean a lot of different things:
In your conscious life – you are perceiving some sort of failure. You may feel less confident in your ability.
You've come to know; that you do not have control over a particular situation or problem.
You have set yourself; almost impossible standards to reach and are realising you may not achieve them.
Maybe you are experiencing feelings of letting yourself; and possibly others down.
It could be you are looking to permit yourself to move on from a situation or person.
We may imagine that a person or situation is getting away from us, coupled with a feeling of a lacking of security.
Good to Know
Just because you dream it doesn't make it so! Meaning; that sometimes we perceive something in our dream state, but the situation can be imagined – not real! Equally, we can experience anxiety around a topic; but with no logic behind it.
To prevent falling dreams in the future, look to your waking life, and try to let go of people or circumstances that are not serving you well. Try releasing tension from your body in your waking hours to avoid muscle- twitches as you sleep.
Keep in mind the saying 'falling from grace' and see if there is an area in your life that could use attention.
Happy Dreaming!
Gaining Insight through Psychic Readings
Dream interpretation is an incredibly powerful tool for gaining profound insights into various aspects of your life. Through the process, you can seek valuable guidance from the reflection of your dreams. Our skilled and intuitive psychic readers possess the ability to provide similar insights into the areas of your life that may be causing you distress. They can assist you in uncovering your own subconscious thoughts, enabling you to find deeper meaning and clarity.
Whether you're seeking clarity on a specific issue or looking to develop your spiritual connections, we have a reading that's right for you. Don't hesitate to give one of our available readers a call and start your journey towards spiritual growth and personal transformation!
Posted: 28/02/2023
Related Category: Dream Interpretation