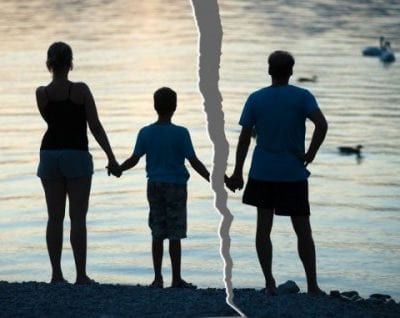 With the latest figures showing that an estimated 42% of marriages end in divorce, it's an unfortunate fact that most of us will be affected by divorce at some point in our lives. Divorce can be a life-changing and complex event, and even more so when there are children involved. But can divorce ever be good for them?
Hollywood actress Kate Winslet has recently spoken out about her belief that divorce had actually benefitted her three children. In an interview with Harpers Bazaar, the 39-year-old discussed how her two divorces had helped her children understand "struggle."
She told the magazine: "I think it is very important to teach your children to struggle on some level. I would honestly say that I wouldn't change a thing. Even all the bad bits." "It doesn't matter how ****** up times have been, they all matter, because those things shape who you are. And if you don't like who you are, well, then you're ****** really, aren't you?" the actress said.
Prioritizing Children's Well-being amidst Struggles
Kate has three children from three previous marriages. One-year-old Bear Blaze with her current husband Ned Rocknroll, 11-year-old Joe from her second marriage to Sam Mendes and a 14-year-old daughter, Mia, with her first husband Jim Threapleton. Whether you agree that the struggle of divorce can be turned into a "good thing" or not, there is no doubt that divorce can be incredibly frustrating and painful for both a couple and their children.
Having said that, it's important to remember that divorce is an ongoing process and there is no reason why life after marriage can't be happy and fulfilled for your children. Getting caught up in a parent's war is something most children could do without and there is much to be said for putting children first throughout the process.
Psychic divorce advice
As ever, Psychic Light is here to guide and advise you through any changes in your life's journey, whether that is the end of a relationship or simply just adjusting your family to a new dynamic in the home.
Our psychics are well versed with the end of a relationship. If times have been rough in your marriage and you are worried things may be falling apart, talking to one of our readers can help you feel better about the situation, even putting you in a position where you feel you can make the decision that's best for you and your spouse. You may be in the process of a divorce and need somebody to listen to you and answer your questions about what the future may hold.
Many of our callers find that they feel rejuvenated after these conversations, able to go out and face the world once again, clear in heart, mind and soul. Look out for readers including Michaela, and Hope who can sympathetically guide you with any family matter.
Posted: 11/03/2015
Related Category: Family